Living Other Lives Through Craigslist
When what you have isn't enough, go to Craigslist.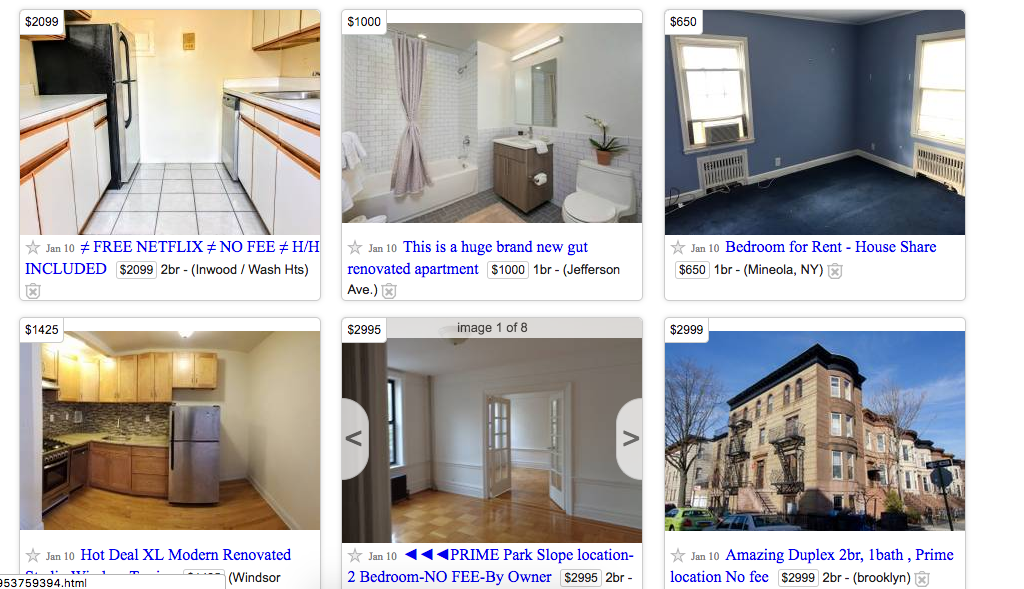 Sometimes when there's no toilet paper in my apartment or when something in my apartment feels off in a way I can't quite place, I look at my savings account, do some quick math and dive head-first into Craigslist to see what I could do if I believed in both financial insolvency and impulsive actions.
The great news about living in New York is that any apartment that I would want to live in is so laughably expensive that moving is purely fantasy. I have a very good deal now and though I could pay more money to live alone further out, I have come to realize that living close to things makes me a happier person. But when the urge to throw all of my things in a bag and leave in the cover of night strikes, Craigslist's apartment listings usually calm me down.
It's a strange self-soothing mechanism that operates on the same level as online shopping without actually purchasing or spraying myself with $200 perfume at the store down the street from my apartment and leaving empty-handed. I'm window-shopping, but for a life that is tantalizingly within my grasp.
There are hardwood floors and kitchens that seem larger than they likely are; there are bathrooms with tile and a bathtub that would ideally be used by one person only. Too much HGTV has done nothing but fuel this desire — a beautiful apartment in a desirable neighborhood for $1,100 a month is clearly a scam — but I see curtains and tables and rugs and plants, dropping in from the sky like they do on Property Brothers when Drew and Jonathan are showing a wary couple in Westchester how the fetid den they're standing in could become the house of their dreams.
Once I found the apartment of my dreams— Brick! A decorative mantel! A kitchen that fits a table! Laundry in-unit!— for $1,600(a bit high, but I'd make it work)in a neighborhood that I have wanted to live in for the entire time I've lived in New York. I scoured the pictures for hints of a scam; I mapped the address and stared at the exterior of the building.
"Does this look like a scam?" I asked Team Billfold, sparking a lively conversation about how the apartment itself probably didn't have a roof and contained a dead body mouldering in the linen closet because my god, it was really too good to be true.
I texted the number provided, already preparing to drop everything, get on the train and throw cash at the broker. I waited fifteen minutes or so and got a response: "Someone's already put in an application. Sorry."
---
Support The Billfold
The Billfold continues to exist thanks to support from our readers. Help us continue to do our work by making a monthly pledge on Patreon or a one-time-only contribution through PayPal.