Do These Christmas Ornaments Bring Me Joy?
They don't necessarily need to.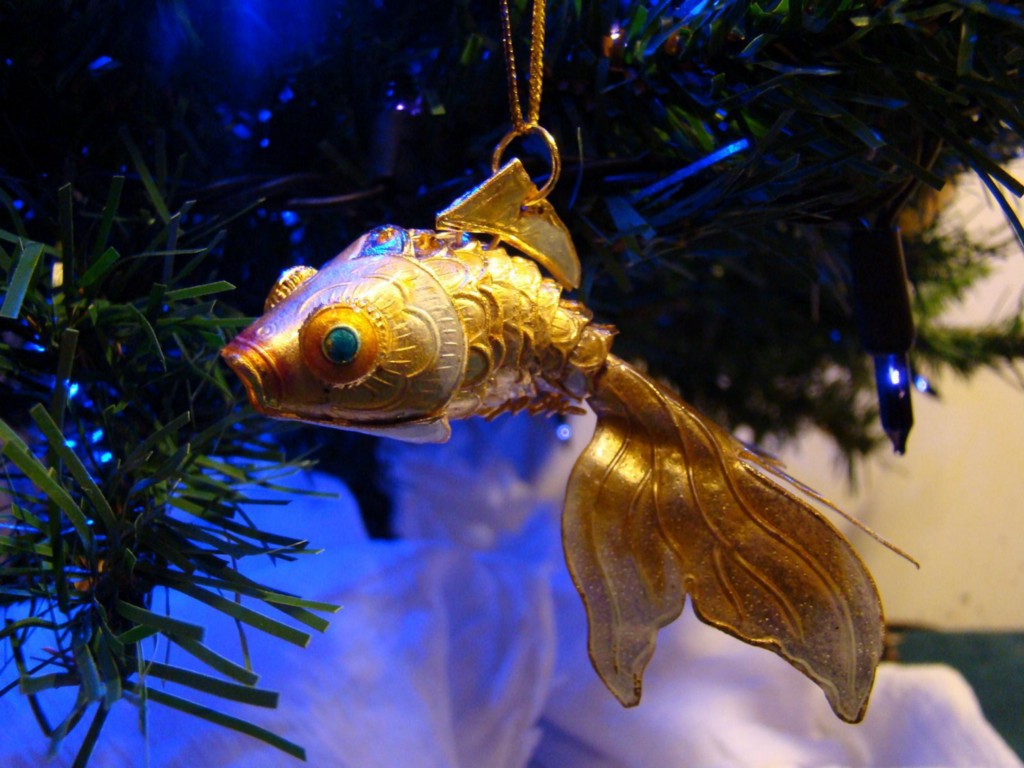 One of my favorite things to do in December is visit Longwood Gardens outside my hometown of Philadelphia and see the holiday decorations. Every Christmas the design team decorates dozens of trees in different color schemes and themes, and I can spend hours wandering around the gardens admiring their cleverness in interpreting that year's theme. When it comes to my own house, however, I can't imagine changing decorations from one year to the next. This isn't just because of the money involved, but because in my family holiday decorations — and Christmas tree ornaments in particular — are treated as a collection, one to be carefully developed and displayed each winter.
My mother is the person who imparted this idea to me. Every December, she turns her house into a holiday wonderland, with an enormous Christmas tree as the centerpiece, adorned with ornaments she has inherited, made, and purchased over the decades. The ornaments don't have a color scheme or a unifying theme other than "this is us"; they reflect our family's background and hobbies, places we've traveled and other little fragments of the past.
Sometime around the high school-to-college transition, I began to imagine one day having a tree of my own. There were ornaments on the family tree designated as mine — Winnie the Pooh ones, as well as a run of the Hallmark "Daughter" ornaments that my mother gave me each Christmas — and back then I expected that one day in the not-too-distant future I would carry them off to my own dorm room/apartment/house, where I'd use them as the core of my carefully curated ornament collection. I started buying ornaments and putting them away in special storage boxes, deliberately separated from the rest of the family Christmas decorations in my parents' basement.
Yet for more than 15 years those boxes stayed at my parents' house and every December most of "my" ornaments were integrated into the family Christmas tree, then packed away in their separate boxes after the holidays. There was always a reason I didn't bring them with me as I moved from one apartment to the next: I knew I'd be back with my family before the holidays so it didn't seem worth it, or it was too much hassle, or I was going overseas for an undetermined length of time and didn't want to ship boxes of ornaments back and forth. Still, I continued to add to the collection, even though some of the ornaments in it had never touched the branch of a tree.
This year I bought a house and finally have the full-sized Christmas tree I've always wanted — a seven-and-a-half foot tall artificial beauty purchased on sale at Home Depot over Thanksgiving weekend. As the first big snowfall of the season blanketed Ann Arbor on Sunday morning, I assembled the tree and wrapped four strings of lights around it, then hauled my two boxes of ornaments up from the basement and got to work.
Many of the ornaments brought a smile to my face as I released them from their tissue-paper wrappings and remembered when and where I'd purchased them. Others, though, I looked at quizzically. Did I really once think I wanted a wooden shark on my Christmas tree? Where did this delicate glass astronaut come from? When was I so into birds that I bought not one, not two, but three bird ornaments?
So as I decorated my first solo Christmas tree, I did a little KonMari exercise on the ornaments. I decided that to make it onto my tree, an ornament had to bring me joy: it had to summon a happy memory, or make me smile, or strike me as beautiful and interesting in some way. Those that didn't make the cut went into a pile for donation to Goodwill.
Some of the ornaments that do bring me joy and now hang from the branches of my tree don't make any sense without the stories behind them. There's no reason I should have a U.S. Naval Academy midshipman ornament, for example, except that I remember purchasing it during a family day trip to Annapolis one summer. The Chinese take-out box ornament isn't one I would buy for myself, but it was a gift from a family friend who died unexpectedly this year. I'm not as much a Phillies fan as I once was, but there's a cross-stitched team logo on the tree because I made it back in high school.
The shark, the birds, a terribly unfortunate Garfield ornament that I truly can't explain — they're all headed for someone else's ornament collection, where hopefully they'll fit better than they did in mine. My own collection will surely change more over the years; it will grow, certainly, but maybe I'll also reach a point where some of the current ornaments no longer bring me joy, or become sad mementos rather than happy ones, and I'll decide to give them away. Collections can evolve. But for now, everything on my tree says "this is me — in 2016."
Maura Elizabeth Cunningham is a historian and writer based in Ann Arbor, Michigan. Follow her on Twitter @mauracunningham and on Instagram @mauracunningham82.
---
Support The Billfold
The Billfold continues to exist thanks to support from our readers. Help us continue to do our work by making a monthly pledge on Patreon or a one-time-only contribution through PayPal.