Budgeting For My Poland Adventure
I saved $2,800 in eighteen months to attend World Youth Day.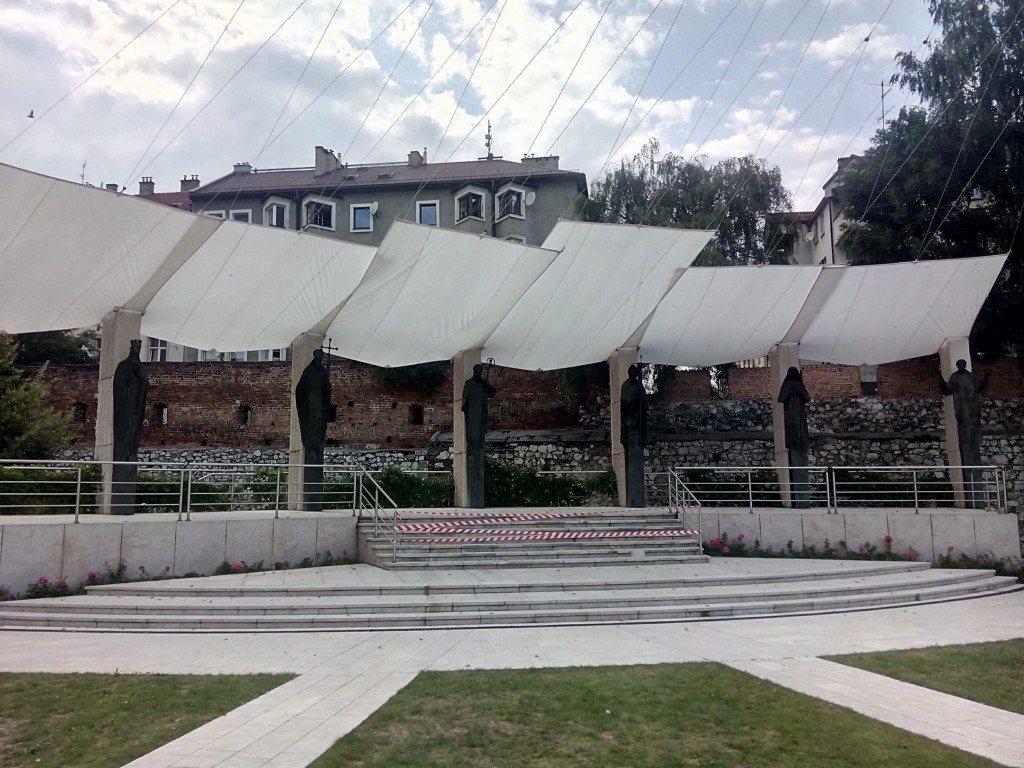 Two years ago, I was in mass when the priest announced that in a year and a half, World Youth Day would be taking place in Krakow in Poland. The previous World Youth Day had been in Brazil, and over a million Catholics from all over the world held a vigil with Pope Francis on Copacabana Beach. I was immediately intrigued. I wanted to travel, and I fangirled over everything pope-related.
I took a flier about the trip and looked at the beautiful outline of Krakow's buildings. I wanted to see it in person for myself. Then I went to the first church meeting about the trip and heard that traveling would cost us a little bit over $4,000. I almost panicked. Being a student who still lives at home, I didn't have over $4,000—and even if I had, spending it all on traveling was too much of a luxury.
The organizers told us that the Archdiocese of Brooklyn would be giving us a grant so that we wouldn't have to foot the entire bill. I gave a sigh of relief. Then they explained that we would also raise money by selling pastries and food to people in the parish before and after mass. We would have to hold some sort of sale every month in hopes of making as much money as we could.
Both the Archdiocese and the fundraising covered about one fourth of our expenses. Over the span of a year and a half, I had to pay around $2,800 to go on the trip. I was able to save up with some help from my parents, picking up freelancing gigs, doing extra work—even though I was sleep-deprived from being a full-time masters student—and going without "unnecessary" things like green tea froyo. I had also saved some money for public transportation while in Poland and for souvenirs, but I was nervous about how far my money would go when going to different events in Krakow.
Going with a group from my church turned out to be a bit more convenient than I had originally thought. When we landed, we were given passes to wear around our necks. At first I thought it was just an identification pass, but then a priest with our group explained that it was also a bus and train pass for the week that the archdioceses helped us pay for. Pilgrims who travelled to Poland were also given "funny money." Brightly colored paper bills that would get us a meal or two a day if we purchased them in specific locations. I didn't have to pay for half of the meals that I bought when I was traveling around Poland with everyone. I also got treated to everything from group T-shirts to lodging, thanks to the package deals our tour group—and the archdioceses—were able to put together.
Overall, the event was amazing. There were masses and catechism classes for English speaking countries. We got to explore Krakow during the evening and sip on $4 glasses of wine. During the first day with the Pope, we walked for hours to get to a field in the rain and I was able to actually get close to the Popemobile.
The best part of the entire event was when over a million people slept outdoors in a field and held a candlelight vigil lead by Pope Francis. We walked over an hour to get to the field, and to stay busy, I sang a bunch of Beyoncé with people I met on the way. I got to exchange trinkets and pins with people from all over the world. We all took photos together, danced around, and slept out in the middle of who knows where.
When I got back from my trip at the beginning of August, I wondered how much money it would have cost if I had gone to World Youth Day on my own. A round trip between Warsaw's airport and JFK would have cost $1,500, and that was if I purchased the cheapest seats. The church group also gave us printed t-shirts that had a logo on them so that we could easily walk together in a group. If I had to purchase those shirts myself, the way some organizations ask members to purchase T-shirts or uniforms, they would have cost around $25 a shirt. We were given eight shirts to wear, or a $200 value.
While we were in Krakow we stayed in the Holiday Inn for six nights. Had I booked a room for myself, it would have cost me around $190.00 a night for the kind of room I was staying in and for the breakfast buffet that we were had access to every morning. Total, it would have cost me $1,140. On our last night, we slept in a Sheraton Hotel in Warsaw. The cheapest room there would have been around $145 dollars. While in Krakow, everyone with the archdiocese of Brooklyn was invited to take a tour of the historic salt mines. I would have needed a tour and translator, which would have cost me $65. In a reception hall in the salt mine, everyone in the group was treated to a four-course meal—which, at an equivalent restaurant in NYC, would have cost a little over $125.
The funny money that our group was given saved me over $150 worth of food. There was also a night when the priests in our group treated everyone to dinner at a pretty fancy restaurant. Everything I ate would have come out to around $75. I also have to take into account the tour bus that took our group to different locations when we didn't walk to them. Everything I was able to calculate comes up to $3,400, or $600 more than I paid for the entire trip. Had I been able to calculate other fees and activities and constant breakfast buffets, it probably would have cost me much more to participate on my own.
I'm grateful for the experience I was able to have in Poland. I knew that the trip would be expensive, but after being able to see the amount of money I was able to save by going with a tour group, it was worth earning and saving extra cash for over a year so I could go. I'll definitely go on more trips abroad now that I know that it won't break the bank.
A native New Yorker, a sometimes writer, and a full-time journalism grad student at CUNY J. Follow and connect on Twitter @AngelyMercado
---
Support The Billfold
The Billfold continues to exist thanks to support from our readers. Help us continue to do our work by making a monthly pledge on Patreon or a one-time-only contribution through PayPal.