On Beyonce's Empowerment Capitalism vs. Her Ticket Prices
When You Dream It & Work Hard And Slaying Is Still Out Of Your Budget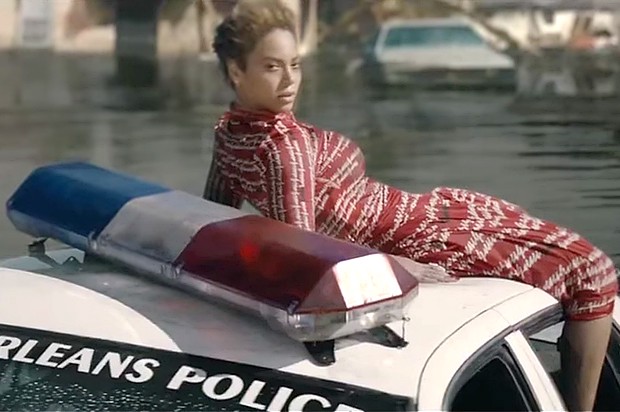 Many of the ladies — and others! — who want to get in formation are being deterred by ticket prices. At least they're being hilarious about it. Here's R. Eric Thomas addressing the queen:
First of all, thank you. You are a phenomenal performer, businessperson, icon and GIF-factory. We are lucky to share the Earth with you.
Second of all, what the fuck are you doing charging me all this money for your concert? Where am I supposed to get the scratch to pay for your Givenchy-brand event? Can I pay in Frank's Red Hot? Do you take Red Lobster gift cards? Do you? … You gotta understand, I'm trying to have a Diana Ross in Central Park moment with you. That is, free and potentially life-threatening. I not here for these $300-a-seat reindeer games. I'm not for it!
I logged on to Ticketmaster with my BeyHive access code and I couldn't, for the life of me, find the Black Excellence discount. This site was treating me like one of those … regular people. I was whispering at my computer screen "Girl, it's me. What's the black password? 'Damn damn damn?' Should I screenshot my nostrils?"
Everyone from Black Girl Dangerous to the Slate Culture Gabfest has been talking about Beyonce's new song and video "Formation" for the past week, debating whether its exultation of capitalism is a bad thing.
Do yourself a favor and check out the annotated lyrics on Genius, too.
In one corner we have:
Ernest Owens: "it wouldn't be too far fetched to imply that Beyoncé used contemporary oppressed blackness as a marketing tool to increase the wealth of her brand and husband's company."
Death And Taxes: "her latest activism via 'Formation' feels more like strategic consumerist dramatism rather than empowerment."
And in the other:
Vice:
What's fascinating about the lyrics in "Formation" is that the black feminist capitalist coordination that Beyoncé endorses isn't about survival, it's about complete domination — the instruction is to 'Slay' and in fact, a woman's ability to 'slay' is a basic requirement. And while this stance certainly has the potential to alienate an array of women, it also can serve as a clarion call to raise the bar in terms of black women's expectations of what we can make of our lives — even in the face of the very real forms of violence and oppression that we face.
And Time.com, in awarding Beyonce a Lifetime Achievement Award for her money savvy, calls her the "Queen of pop culture capitalism."
Beyoncé sadly was not nominated for a Grammy this year. But after she dropped 'Formation,' followed by a show-stopping (and stealing) Super Bowl performance punctuated with the announcement of a new world tour last week, it's hard not to credit Bey on this list. The businesswoman just does it better than anyone else. And while her Super Bowl performance may have stirred up some controversy, the best revenge is, of course, paper — and Beyoncé's got a ton of it.
Meanwhile, Red Lobster has wisely ignored the controversy and savored the profits.
"Sales continued to spike after the song's Saturday debut, even through Monday [February 8]. … "We are absolutely delighted with what we saw over the weekend, particularly the consumer sentiment that we saw expressed," Kim Lopdrup, CEO of Red Lobster, told CNBC. "It's clear Beyoncé has helped create some Red Lobster fans, and we are very grateful to her for that." The chain's wildly popular alcoholic drink, Bay Breeze, are now called "Bey" Breezes.
Where do you fall on this spectrum? Does the pro-paper ethos detract from your enjoyment of the music? Or is it part of what makes you cheer? Perhaps you are ambivalent, like R. Eric Thomas: full of admiration but also wistful that slaying is out of your price range.
I mean, I put your tickets as an item on our wedding registry but I don't have high hopes, Bey. We also need some Wedgewood dishes. I love you Bey, but I can't serve dinner for 6 on your fabulousness. …
I ain't mad. Get that money, girl. You deserve every penny.
---
Support The Billfold
The Billfold continues to exist thanks to support from our readers. Help us continue to do our work by making a monthly pledge on Patreon or a one-time-only contribution through PayPal.