Try Out a New Life By Going on Vacation
by Megan Reynolds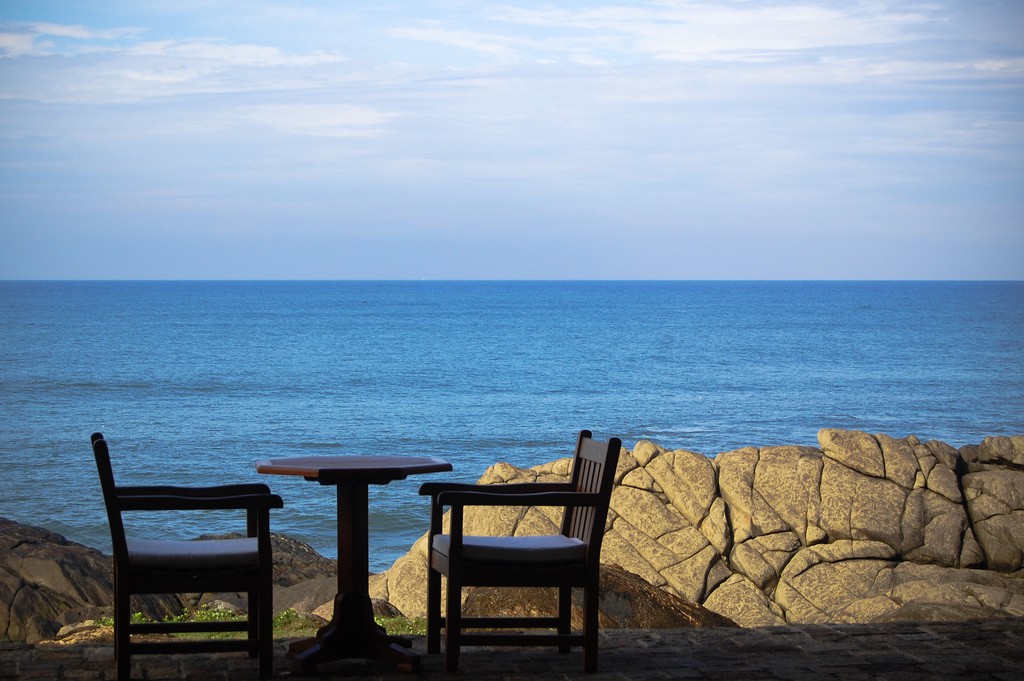 For most of my twenties, vacations — real, true vacations, in which you go to a place that isn't where you live, and shed the skin of your current life — were out of my reach. Aside from a trip to Hawaii, arranged in haste when tickets were cheap, I kept my vacations to a minimum, staying within the safe territory of a long weekend away at a friend's parents' third house in Vermont or Cape Cod or putting myself on an airplane and flying to California to see my mother. As brief breaks in the arduousness of everyday life, these jaunts certainly fit the definition. But, they lacked the heft of a real, actual vacation, a trip that you plan and get excited about over time.
On vacation, you treat yourself to room service. You duck into the sale section of an Urban Outfitters after work the night before your flight, telling yourself you have nothing to wear for warmer weather, grabbing handfuls of discounted crop tops. A vacation is an event; it's a way to relax, to escape your real life, to fully subsume yourself in the art of relaxation. They are great tools for pretending that the life you left behind for four or five days is in the past. But, each planned vacation I've taken in the past year or so has also felt like an effective way of trying out a new life.

My sisters and I flew out to Miami in the beginning of March, standing on the street waiting for our cab in the midst of a snowstorm. We were going for four days. It was the first time we'd ever travelled together, alone, and we picked Miami at random. The first day or so, I was elated to be out of the sludgy hell that New York was trapped in, gleefully Instagramming pictures of clear blue waters and white and beaches. By the third day, after eating a cheap and incredible Cuban dinner and walking up Collins towards our hotel, I started looking around. "I could live here," I thought.
The next day I scrolled thru Craigslist while walking past pastel stucco houses blocks from the beach, behind Art Deco fences shielding yards full of palm trees and hibiscus. I saw myself sitting in a whimsically decorated living room, perched on a rattan armchair as a ceiling fan did lazy circles above my head, a breeze blowing in through from the ocean. I looked for grocery stores and coffee shops — the two things I look for in any neighborhood I want to live in — and spent one afternoon thinking very seriously about what I could do for work while also making time to go to the beach every day in my new lifestyle as a Miami resident.
"Maybe I'll move here and live in a studio and write a book," I told my sisters.
"Good luck with that," they replied.

On a recent trip to New Orleans, stretched out over a long week, I came the closest to realizing that I should return to New York, pack my things and move to the South. The vacation itself was for a joyous occasion — a gathering of all my friends from college to celebrate one of us getting married. We were there for a bachelor party that stretched out over seven days.
I was in a good mood. Perhaps that swayed my thinking, but spending that week in New Orleans found me cycling through scenarios in my head about how I could move to a shotgun in Gentilly and continue to work remotely. Rent would be cheap; my best friend lives there; I'd learn to drive, but that's something that should happen anyway. It would be an easy, seamless, transition. I'd sit on my porch at night smoking cigarettes and reading until my eyes started to close, until it was time for me to lock the door and tuck myself in under the breeze of the very cold central air. As I browsed the aisles of the Whole Foods near our Airbnb, plopping cans of La Croix into my cart and accompanied my friend on an errand to Wal-mart to make extra keys for her apartment, I had a premonition: This could be my life, I told myself. This is what it would be like. This is how it could be.

We don't typically view vacations as a way to try on a new life, because their very nature is to be a respite from the drudgery of our own. When you vacation you go big. The life that you're slipping into when you're on your honeymoon in the Seychelles or on a five-day girls week at an all-inclusive resort in the Dominican Republic isn't a life that you would ever conceivably have at home. The places you stay and the activities you do are specifically chosen to be the direct opposite of what you do when you're shuttling from work to grocery store to laundromat to bed.
Vacation exists as an escape. You leave your piles of bills and the annoyance of having to take your recycling out and around the corner behind with the rest of your things. Your vacation self is your best self. You are charming, you are witty, you are fun, you are prone to drinking more during the day than you would normally. It's easy to get swept up in the allure, to imagine away your entire actual existence, because your mind is in a suspended state of happiness. Turning a vacation into an actual way of life — doing the work of packing, moving and saying goodbye — is really just upheaval for more of the same. We forget that the bullshit of the everyday sticks around wherever we are, if we stay there long enough, because you can't shake that.
The instinct to slip into a life imagined in a place that is not your own is very real; regular life at home is both awesome and just fine. Indulging in these fantasies is necessary. It's your mind's way of going on vacation, matching the placid chill you've found as you float in a glassy sea somewhere warm, or grocery shop in a neighborhood that looks and feels like a rosy-filtered version of what you left behind. Indulge in this instinct, because why not, you're on vacation. Just remember that if you uproot and move, desperate to leave the little things behind, they'll follow you every time.
Megan Reynolds lives in New York.
Photo: Hash Milhan
---
Support The Billfold
The Billfold continues to exist thanks to support from our readers. Help us continue to do our work by making a monthly pledge on Patreon or a one-time-only contribution through PayPal.