What It's Like To Work At The Happiest Place On Earth
by Tera Brasel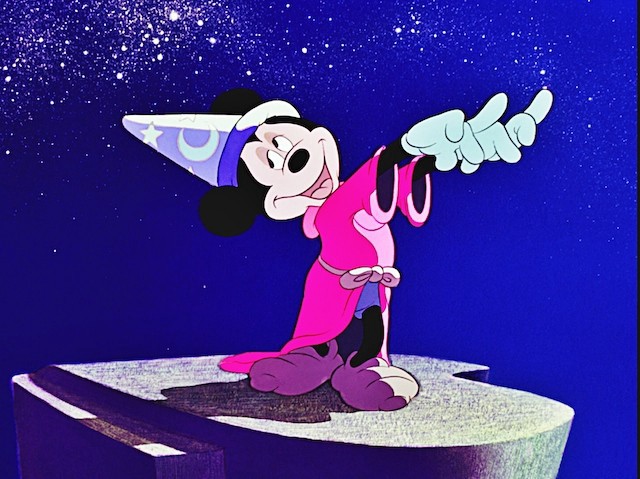 After two days of Disney brainwashing, an in-depth orientation including history of the parks, branded nomenclature, and blood-borne pathogen training, the first substantive thing my trainer at the Magic Kingdom told me was that guests leave their brains at home when they go on vacation.
The internship program at Disney has multiple tiers and the first tier is a gateway: the more valuable job experience lies in the highly selective professional internship. First tier interns hold entry-level jobs and interact with guests. Interns also happen to live together in off-site, fully-furnished apartment complexes similar to dormitories, with transportation provided to and from their work sites.
I applied to the internship program on a whim, and if that didn't qualify me as Disney material, I don't know what did. The previous fall, I had transferred to a college closer to home, at a time when I hadn't really grasped what my goals in college were. The internship presentation was on campus, and I was surprised when the recruiter held interviews that same night. He agreed with me that the internship would make a terrific break between junior and senior year. They made an offer; I accepted. When I saw my interviewer months later at check-in, he didn't recognize me.
I escaped to Florida for what I viewed as a working vacation. Escape from what? From my own lack of direction, from my father's failing health, from my fiancé's very real enlistment in the military. I dove headfirst into a company that is colloquially run by a mouse.
As soon as orientation was over, I began working. I worked the minimum scheduled thirty hours they promised interns, and then I picked up extra shifts for parades and fireworks. I smiled politely when the guests asked cliché boneheaded questions, like "When is the 3:00 parade?" I happily directed guests to the nearest bathroom when greeted with their children's bare, wet bottoms. I did everything I could not to yell at parents who, heedless of anything but cramming as much fun as possible into a week, shoved their tiny spawn at automated moving vehicles to shave a few seconds off of their wait time.
The smiling was getting to me. After several weeks, I starting having explicit dreams with adult themes, every non-magical thought I suppressed during the day coming out to play at night.
The staff was not entirely populated by interns. Walt Disney World doesn't share what percentage of its 70,000-strong workforce is provided by the college program, but the program can cause tension among the local cast members. Locals and interns are classed differently at the parks. Locals — and international cast members, including international interns — have the protection of a union. When I had a preferential opening shift for several months, some locals side-eyed me, as if I were getting away with something.
Though they were friendly, it took a while for the locals to warm up to each new group. The college program students rotated out: each internship lasted anywhere from three to six months, or a year if they extended. Some of the locals had been in our work location for years. I imagine it's hard to work up the energy to get excited about a new group of babyfaces every six months.
This is not to say that the relationship between interns and locals was entirely strained. If I was aimless, I wasn't the only one. The interns were all a bunch of transplanted college kids. At work, the locals acted as older siblings and surrogate parents. They knew the parks, the managers, local dentists and mechanics and where everyone would hang out after work.
To call them "locals," even, is misleading. If you spend any time in Florida at all, you will quickly realize how few of its citizens were born there. Our name-tags listed our hometowns and states beneath our names, while interns listed their universities. Very few of those long-term locals' name-tags listed any of the surrounding Orlando communities, but rather, the places where they had been born.
I shared an apartment with five other women of various ages and nationalities. One roommate was a grandmother from Trinidad and Tobago; her son was on the program also and lived in the building next door. I had roommates from Chicago and Saratoga and China and Argentina, all in a six-month span. Women cycled in and out of our apartment. The Disney College Program is an easy internship to get, but a hard one to finish. The work environment and close living quarters all took a toll, and we drank a lot. Our perks included discounts to the now-defunct Pleasure Island, no-cover nights for cast members at the piano bar, and free entry to the parks.
Free entry to Walt Disney World is possibly the greatest benefit to the internship, in dollar value, at least. On our days off, what did we do? We went and played. As we were all on internship salaries — $6.00 an hour, at the time — going to the parks was all we could afford. If I budgeted carefully, I could afford to eat in the parks when I went. Twice a year, they held tent sales for cast members where they sold drastically reduced merchandise. These tent sales coincided with the busiest times of the year, when a lot of overtime was available. My side of the room was decorated in Disney, and everyone in my family received Disney merchandise for Christmas that year.
I took advantage of my new knowledge of the parks. On play days, my coworkers and neighbors would let me skip the lines on attractions. We coordinated days off and toured the parks together. Occasionally, we even took the time to visit the other local attractions. I visited the Fountain of Youth, relished in its "old Florida" charm, but did not drink of it. The sulfur makes it smell like rotten eggs. We left once in the middle of the night for Clearwater in November, during an unseasonably active hurricane season.
We worked and played in equally hard measure. However, I always felt onstage, and couldn't seem to turn work off. To this day, if I see someone taking a picture of their family, I will stop and ask if they want to be in the picture too. That habit is a holdover from my Disney days. It drives my husband crazy.
If the interns were all on a six-month long spring break, then the guests committed to squeezing every single dollar of fun out of their holidays. Guests are people you invite into your home, take care of, provide for, and the more time I spent at work, the less hospitable I was. At times, I felt more like a babysitter than a host. I was constantly nudging my guests out of harm's way: out of the path of a ride or parade vehicle, off of a raised planter, out of a firework fallout zone.
They continued to shell out the thousands of dollars it costs even one person to enjoy a week at the parks. Keeping guests safe was a small measure compared to the monumental task of keeping them happy. Walt Disney World is hot, often crowded, and over-stimulating. It rains everyday at 4 P.M. Everyone is a tourist. No one knows where anything is.
It has to be someone's job to take care of people, to show them how everything works. I gave them as much magic as I could, whenever possible. As an attractions hostess, the easiest trick in my magic wand was letting people go to the front of line, and I did this as often as possible without inconveniencing my coworkers or other guests. There were a few instances where people didn't want my help. I never quite knew what to do with those guests.
I was by no means a shining star. In fact, I didn't even complete my internship. I left with two weeks to spare, to spend that time with my new husband before his first deployment. When I married, it was near the end of my internship. My coworkers pooled together and bought me a card and a wedding pin: Mickey and Minnie kissing in bridal wear, naturally.
"You know the wedding band goes on your finger before your engagement ring," one work mom said. I didn't. No one had ever told me. "It's closest to your heart."
I turned in my notice several days later, and went back to my new real life.
My former work area has since undergone a complete refurbishment, so I'm curious to take another trip. When I've been back in the past, as a guest, the feeling is akin to visiting your old high school: somewhere formative and familiar, but you know you don't quite belong there anymore. But I'm still thoroughly brainwashed. On one of those past trips, I was standing there, when a woman approached me. "Excuse me," she asked, "Can you take our picture?"
This story is part of our Travel Month series.
Tera Brasel is a writer and teacher based in the St. Louis Metro-East. She still loves Disney.
---
Support The Billfold
The Billfold continues to exist thanks to support from our readers. Help us continue to do our work by making a monthly pledge on Patreon or a one-time-only contribution through PayPal.