How Small Is Too Small, When It Comes To Charitable Gifts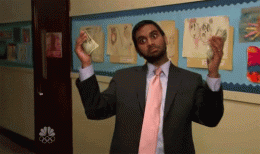 If you ask me to contribute to your Kickstarter, you probably won't be offended if I throw $25 your way. Likewise, if you solicit support from your community for a venture like a marathon or a swim across the Potomac. But what about charities and non-profits? Do small gifts help them, or are they more of a hinderance, because they cost as much to process as larger gifts but are far less valuable?
A friend who works in Development raised the question on FB, inspired by this letter:
I am writing to you as a donor. I give away 10% of my income every year and support about 25 organizations with donations in the $20-$50 range with a few at $100. I live on social security but I don't have many expenses so I can do this. But I read recently that gifts of $20 and $25 aren't that useful to organizations because it costs so much to process them. The article said to make fewer gifts of higher amounts. I like giving to a lot of organizations but I don't want to waste their time (or my money.) You are in fundraising so what do you think?
The person answering assures the letter writer that yes, even small donations are very useful. "The important thing is to be generous, and you are." Having worked in Development for a couple of years myself, I agree: I never heard anyone at my office complain about having to process small donations. If you give at all, you get yourself put into the system, added to rolls, courted to contribute more or at least again, invited to events, and so on. All of that is a win for the org.
And where would less mainstream politicians be without the grassroots? Dead in the water.
Consider Senator Ted Cruz. He is the first Republican to announce that he is running for president in 2016. Lots of more establishment types are eying him warily, and one of the key factors that may sway them to his side are whether he can energize the masses, money-wise. The Wall Street Journal reports that he has made good progress so far:
His campaign is likely to rely more heavily on small-dollar donors, many identifying with the tea-party movement, than on the party's wealthiest supporters. Of the total raised in the eight days after Mr. Cruz's announcement, 95% were contributions of $100 or less, Mr. Tyler said. The average donation was about $83.
Not to be outdone, potential contender Jeb Bush is passing the hat too, according to the Tampa Bay Times:
On Sunday, his Right to Rise PAC sent out a solicitation, signed by Bush's mother, that sought donations as small as $25 before the March 30 end of quarter. "This deadline is the first major signal we'll be sending to the Democrats and Hillary that we're going to put up a fight in 2016," the email reads.
On Friday, a similar appeal came from Jeb Bush Jr., and before that George P. Bush wrote: "Will you help me send Hillary and Elizabeth Warren a message by making a contribution of $100, $50, or $25?"
Are "Hillary and Elizabeth Warren" that scary? I guess they must be, to some.
In short, people asking for money are happy to receive money, of pretty much denomination. Unless they're jerks, in which case the problem solves itself, because who wants to give money to jerks?
But is there a level for you at which you feel comfortable giving, below which it doesn't — for whatever reason — feel worth it?
---
Support The Billfold
The Billfold continues to exist thanks to support from our readers. Help us continue to do our work by making a monthly pledge on Patreon or a one-time-only contribution through PayPal.