Welcome to Kingston. Now Leave
by Sari Botton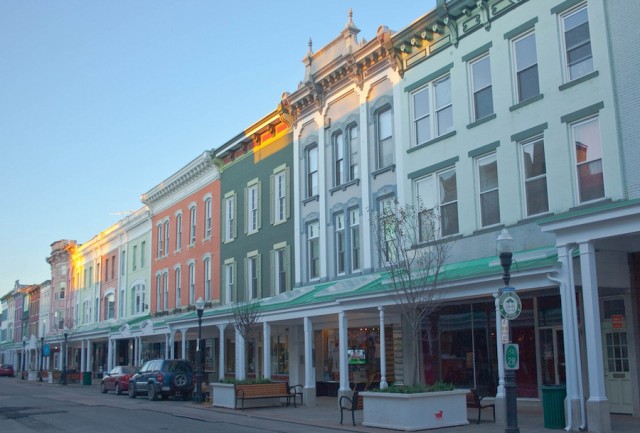 Over the course of the past year, at Brooklyn and downtown Manhattan book events for the two essay anthologies I've edited about loving and leaving New York City, a good number of people have approached me with the same question: "Should I move to Kingston too?"
They've heard or read (granted, often articles I've written or helped write) about how Kingston and its environs are reminiscent of those Brooklyn neighborhoods popular with the young and the hip — minus the astronomical cost of living. Some of them have seen the ads for telecommuter co-office cubicles in a newly renovated building here that's being marketed as "Brooklyn in Kingston."
Initially I'd gush about this place I now call home, a culturally, historically and architecturally rich mid-Hudson Valley city of just under 24,000 which was economically devastated in the mid-nineties by the exodus of IBM.
I'd go on and on about the increasingly vibrant lit, art and music scenes, in part thanks to a growing influx of creative types — a good number of them transplants from Brooklyn and downtown Manhattan. I'd mention the great new cafes and bars that have been cropping up. The perfect balance of city and country, with nature a fifteen-minute drive in just about any direction. And of course the considerably lower cost of living in houses, apartments, and loft spaces much larger than anywhere in the five boroughs, usually for less than half the rent.
But lately I've been more reticent, for fear of of spoiling the place. I am in fact reluctant to write about it here and ruin my own good fortune, and I have plenty of Kingston neighbors who will be unhappy with me for doing so.
But the migration northward from the city has already begun and been fairly well-documented. What's more, other writers are bound to cover it — Vogue and Esquire have already published articles about some of the new eating and drinking establishments here — but I can paint a more realistic picture, warts (and bank robberies and stabbings) and all.
The buzz about Kingston as an alternative to New York City has been steadily getting louder. People have been talking for years about the city "coming up," and it seems as if maybe now it really is.
Harris Safier, President of the Ulster County Board of Realtors, has seen an influx of young city dwellers moving up here. "Where it used to be mostly older people buying second homes," he said, "now it's also young people relocating." This both delights and scares me.
A couple of weeks ago, during Kingston's fifth annual O+ Positive Festival — for which participating artists, musicians and writers are paid in free healthcare — as my husband, Brian, and I watched painters beautify the brick exteriors of old buildings with original murals, and listened to bands in a cavernous, raw former vaudeville theater with a crumbling proscenium, we noted that some day in the not-too-distant future we'd probably look back on this time in Kingston as the heyday of an underground cultural scene, not unlike the way people now reflect on the scenes in Williamsburg and the East village in the early nineties.
Brian and I know something about that, both of us having lived in the East Village of the late eighties and early nineties, long before the sharply accelerated gentrification of the past few years. The arts scene was full of unpretentious as-yet-undiscovered talent. For better and worse, the place was less polished — dirtier, grittier, more dangerous — not unlike Kingston now. (I wasn't kidding about the bank robberies and stabbings. There have been some of each in our neighborhood in just the past couple of months.)
We don't live in the East Village anymore because it got so popular that we got priced out. In 2005 we were booted from a large, rough Avenue B loft we'd mistakenly assumed was rent-stabilized. The $2000 rent ($1350 on our lease, plus cash the landlord was charging us on top of it) was promptly more than tripled, a famous French filmmaker moved in, and we were forced to search for a new, affordable frontier.
We're concerned we might soon experience something like that again, here. It can't be long — while the rents are still low, the expensive hipster coffee (Birch, Stumptown) recently arrived. It's usually downhill (or would it be uphill?) from there.
Kingston wasn't our first stop. In the winter of 2005, we landed in Rosendale, New York, a charming, progressive mid-Hudson Valley town of 6400 on the banks of the Rondout Creek, where we could afford to live. After nine years there, though, we craved a slightly more urban setting, with more people, and more places to eat and shop. So in May we moved 7.5 miles further north, to uptown Kingston, a neighborhood we already spent a lot of time in.
We found a 1000-square-foot loft on Craigslist (also advertised as "like Brooklyn") for $1250 a month (it's going up $125 a month per year, for the next two years, to $1500) above a café, in a building that had once housed a furrier. With twelve-foot tin ceilings, big windows and a finished back deck, the place is stunning. And yet, we were the only ones who showed up for the open house in March, probably because as special as the apartment is, it is on the high end, more in keeping with the average price of of three-bedroom apartments in Kingston.
I'll bet that if the place were to be listed again a couple of years from now, though, there'd be a long line of prospective tenants waiting to check it out, as there had been for the $825 (I later had it lowered to $630 and then it crept up to $722, but that's a long story) East 13th Street apartment I managed to get in 1992, as that neighborhood's popularity surged.
I bear that in mind every time we invite friends from the city see our place. I'm excited to show them what they could have here, because, like the owners of uptown Kingston's BSP Lounge nightclub, who started the #movetokingstonnow hashtag on Instagram, I'd like to lure some more likeminded city people here. I'd like for Kingston to grow, for there to be more shops and cafes to frequent like the ones I'm fond of, for there to be even more culture, and places to hang out on Monday and Tuesday evenings, when many cafes shut down because the weekenders from the city are gone.
But I also have the nagging sense of a meter running. How much longer do I have before the migration from Brooklyn gets so heavy that Kingston real estate prices soar and Brian and I have to once again find a new, less expensive frontier? Before Kingston becomes a theme-park-like hipster ghetto like Willamsburg? Before we can no longer afford to rent in this town that we both have come to love?
In an article in the Kingston Times, local realtor and attorney John Hoyt said he received calls all the time from young people in Brooklyn telling him they can't afford to keep living there, asking about apartments up here, saying they are considering moving here in a year or two.
By then, the Rural Ulster Preservation Corporation's (RUPCO) conversion of the 70,000-square-foot former United States Lace Curtain Factory into artist work/live spaces should be complete.
I'm at once thrilled and horribly anxious about the prospect of new artists' lofts here, and about the forecasted uptick in city expat migrations. So now when people attending city book events ask me about Kingston, I'm certain to give them the bad with the good — to dutifully point out the lousier trade-offs attendant to moving here.
Specifically:
• Let's start with the $51-round-trip two-hour (when you don't hit traffic) bus ride to Port Authority Terminal — I'm sorry, but you'll have to go across the river to Rhinecliff for Amtrak, which can cost as much as $51 each way depending on when you travel, or to Poughkeepsie for the MetroNorth train, which can cost as much as $22.75 each way. And there's no frequent, reliable mass transit to get you to from here to either of those stations.
• Actually, there's no reliable mass transit period, so prepare to buy a car. And to live in car culture. I live in the pretty walkable Stockade or "uptown" neighborhood of Kingston, but it's pretty much a two-block square, and Brian and I can't live in Kingston without two cars.
• Careful of the deer, by the way. We lost one of our cars — and nearly our lives — to one last year. Of course, with deer come ticks. Brian and I have both had Lyme twice, which put us each down for the count and out of work for weeks at a time. So there's that.
• Watch out for the ice, too. After spinning out a few times last season, we're saving up for snow tires this year. You'll never be more nostalgic for the subway than when you are snowed in and the roads are treacherous.
• Between car payments (and snow tires, and repairs, and gasoline) and the mere fortune it will cost to heat your home, say goodbye to a good portion of what you will have saved in rent by moving here. Last year, we went through 1,000 gallons of oil in our house in Rosendale — 200 gallons more than our previous average, since last winter was a complete mofo. Half way through, the price of oil spiked from $3.85 a gallon to $4.26. That hurt.
• Chances are you'll make less money, too, unless you telecommute — or commute commute to the city. Which isn't free, and is four hours a day on the New York State Thruway or the train, which you'll never get back.
• Also, say goodbye to the beloved New York City ritual of ordering takeout for delivery. Most restaurants don't deliver so there are very limited choices, and there's absolutely no Vietnamese for eating in or out, and virtually no Middle Eastern, so no grabbing a quick falafel sandwich. Incidentally, most restaurants shut their kitchens down by 9 or 10 p.m. on the nights they're open.
• There's pretty much no karaoke, a favorite activity of mine, to speak of.
• There's not enough parking, the meters are expensive, and the cops are ticket-happy.
• Much worse than any of the above, of course: there are Crips and Bloods and other gangs, plus a substantial amount of drug activity and segregation and poverty and some gun violence.
So, come right on up. But enter at your own risk.
Sari Botton is a writer who lives in Kingston, NY. She is the editor of Goodbye to All That: Writers on Loving & Leaving NY (http://goodbyetonycbook.com) , and Never Can Say Goodbye: Writers on Their Unshakable Love for NY (http://neversaygoodbyenycbook.com). She tweets at@saribotton.
Photo: Paul VanDerWerff
---
Support The Billfold
The Billfold continues to exist thanks to support from our readers. Help us continue to do our work by making a monthly pledge on Patreon or a one-time-only contribution through PayPal.