Rationalizing Adorable, Impractical Online Purchases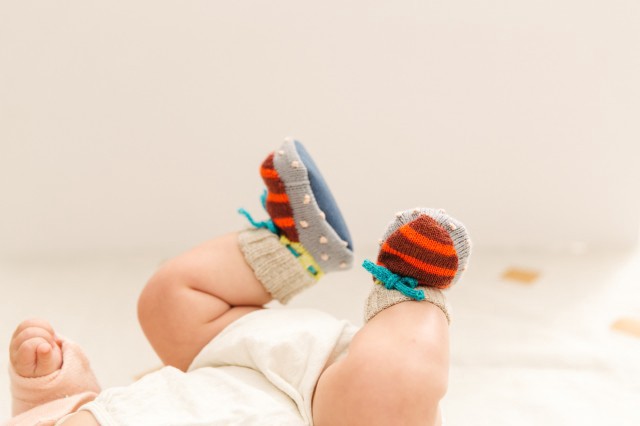 Meaghan:: Um, can I buy baby booties for $60 with tax and shipping? No, right?
Mike: Hah I mean if you need them. If they are just cute, um, maybe close the tab
Meaghan: JUST VERY CUTE.
Mike: You know that baby clothes last for like, 5 days and then they grow out of it
Meaghan: Definitely. Also we just bought him functional winter booties that were a third of this price. Also they are 0–6 months and he's 5 months and generally follows the size guidelines. But I mean, look at them.
Mike: Omg. Hah, they are very cute
Meaghan: I put in my card info then saw the shipping and tax and was like WAIT WHAT AM I DOING?
Mike: The Cost of Being Cute For One Month
Three minutes pass
Meaghan: I bought them, hah.
Mike: Omg, lol.
Meaghan: Twitter peer pressured me.
Mike: Twitter Peer Pressured Me to Spend.
Meaghan Okay here is my rationalization: It's Of a Kind, a small business I like to support, there are only 40 pairs available, and they would make a GREAT baby gift for someone else, if/when I get them and they are too small already.
Mike: And if he doesn't eat them.
Meaghan: "Here are the booties you may have seen my baby wearing on Instagram."
Meaghan: Maybe he can be an Ofakind model and earn back his booties?
Mike: Yes! Learn the value of hard work at a young age.
40 minutes pass
Meaghan: I feel like I shouldn't have bought the booties, like maybe the fact that I did is a clue to what will be the ruination of me. BUT I still think they'd make a great gift, and if I continue to feel bad about it, I know exactly who I will give them to.
Mike: Are they not returnable?
Meaghan: Ssh. I don't even know.
Mike: Hah, I'm sure they are
Meaghan: Ok yes within 14 days. You pay shipping
Mike: Sunk costs
Meaghan: Reason to keep
Photo via Of a Kind
---
Support The Billfold
The Billfold continues to exist thanks to support from our readers. Help us continue to do our work by making a monthly pledge on Patreon or a one-time-only contribution through PayPal.