A Room in an Elderly Stranger's House, and Other Places I've Lived
by Matt Bevilacqua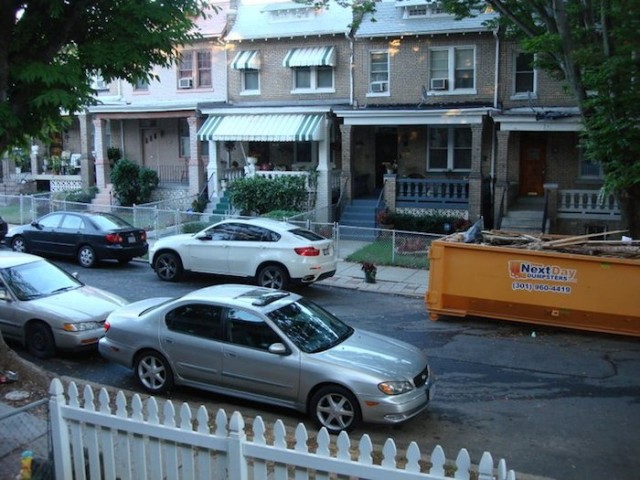 August 2010-December 2010, May 2011-December 2011
Orren Street NW, Washington, D.C., $700-$735/mo.
Besides me, David Sedaris is the only American I know of who spent a big part of his early 20s rooming with an elderly stranger. He describes this time, during which he took up residence in a Chapel Hill boarding house out of some vague, misplaced nostalgia for an erstwhile age, in his 2007 essay "This Old House." But the four months I spent with C.C. were a little different. This was no humble matriarch whose living quarters provided a rustic escape from modern-day campus life. No, C.C. was instead a 60-something globetrotter in the international medical relief field who wrote papers on health care in Central Africa, and who owned a newly renovated Wardman-style rowhouse in the gentrifying Trinidad neighborhood of Northeast D.C. And I, a college senior/unpaid intern/occasional waiter, lived in her basement.
Before C.C. moved into her real estate investment house, I shared it with a revolving cast of fellow students and subletters in their mid-20s. (The rent fluctuated depending on who got which room.) We had a decent setup, with two floors plus a finished basement. The two upper bedrooms had carpet floors, lots of space, and a tendency to get hot in the humid mid-Atlantic summer. I lived in the second-floor front bedroom for a while. This was during a dark summer break when I interned at a local newspaper and waited tables at a since-closed diner (I had the overnight shift on Fridays and Saturdays, earning $2.77 an hour plus measly tips from dazed revelers who trickled up from the H Street nightlife corridor) and spent most of my free time taking cold showers or stripping to my boxers and lying motionless on the bed. I preferred the basement, which was nice and cool and crawling with large bugs of all kinds.
Soon before my final semester began, everyone in the house found new arrangements. Everyone, that is, except me. I tried my hardest, but it was rough going. I had long gotten over college and focused most of my energies on the internship and a feverish job hunt. My then-girlfriend and I had agreed to take a break while she studied abroad, and I made no effort to meet someone new — or, really, maintain any kind of relationship with anyone. My college friendships, tenuous to begin with, fell away. I slipped into a nightly routine of buying a six-pack of Yuengling or Rolling Rock pounders, drinking it by myself, and watching Netflix for hours; or else moseying over to the H Street bars, flirting unsuccessfully with the wait staff, and falling asleep before 10 p.m. C.C. wanted to move into her house, offering me the basement room for $700 per month. Not seeing any other option for riding out the semester, I took it. We didn't run into each other very often, which is for the best, because otherwise this superhuman Washington-type would have noticed the 21-year-old in her home going through what, in hindsight, he recognizes as mild depression.
Another thing about the basement: Its bedroom was situated next to the boiler, which in the winter would thunder on with a tremendous boom every 20 minutes or so. This would interrupt the dramatic flow of my Twin Peaks and Breaking Bad marathons, which I guess I prioritized over sleep.
My relationship with C.C. didn't end so well. Upon finishing the term, I moved out in a hurry with only my mother's midsize SUV for transportation. I still feel bad about leaving all that broken furniture in the backyard.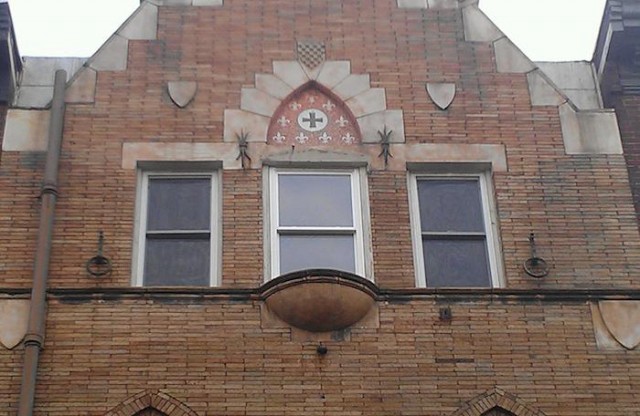 January 2012-January 2013
W. Girard Avenue, Philadelphia, Pa., $750/mo.
When I first moved to Philadelphia, I didn't know anything about the local real estate market. In a typical amateur move, I spent way too much for too little space. This was a one-bedroom walk-up above a pharmacy on the cozy commercial strip of Girard Avenue between 26th and 31st streets, in a North Philly neighborhood that realtors and developers have taken to calling "Brewerytown." (One derelict brewery in the area remains.) Outside, above my front window, the building sported an awesome mosaic of a fleur-de-lis.
My job at the time was located in a storefront office down the block — literally, five buildings down — and I used to commute with a mug of hot tea in my hand. New to the city, I had yet to make any friends outside of work, and my unfortunate six-pack-plus-Netflix routine hadn't gone away. For a brief time I hooked up with someone who bartended at a dive one block south and lived one block over. My world, as it were, shrank to about two square blocks. Most nights, I was treated to a symphony of moans and grunts from the tenant below, who blasted porn day and night.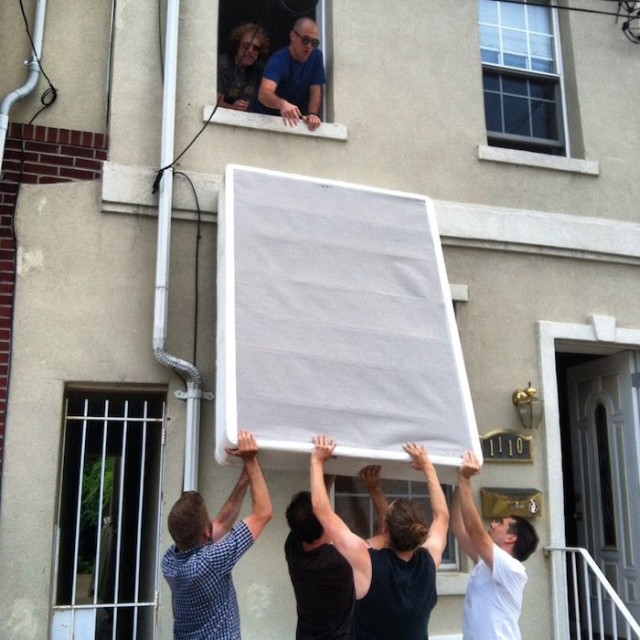 January 2013-January 2014
S. Alder Street, Philadelphia, Pa., $735/mo.
I lucked out with a cool Craigslist roommate close to my age, some of my oldest friends appeared in town, and I started to piece together a social life in Philadelphia after all. Most of this happened as I lived in a two-bedroom rowhouse with a stucco exterior covered in ivy. It looked like the décor in a fake Italian restaurant, but it was real. The house stood on one of those narrow, alley-like streets that weave through South Philly like so many capillaries. (Everyone who visited by car would initially freak out, claiming they could never fit their ride down my street. How sweet it is, to be car-less in a dense city.)
Eventually I removed the ivy at the behest of my landlord, who thought its presence would allow moisture to creep into the walls. I'm not sure about the science behind this, though I am sure that the responsibility should have fallen to her and not us, seeing as the ivy was there well before we moved in. I abided, however, because my landlord was a paranoid, likely racist control freak who would treat me kindly but then try to manipulate my female roommate with threats of eviction if we didn't do what she said. Among her demands: that we no longer let R., a 10-year-old boy down the street who lived with a family of shouters, and whom my roommate had befriended, to hang out in the relative quiet of our apartment. On that point, we did not abide.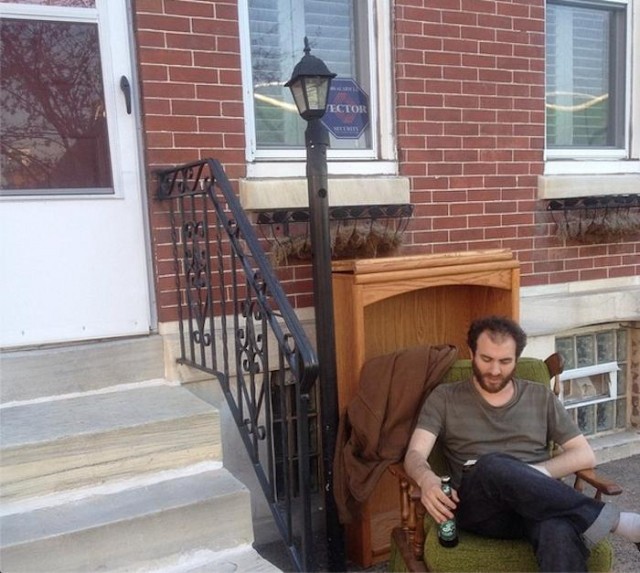 January 2014-June 2014
E. Huntingdon Street, Philadelphia, Pa., $425/mo.
Shitty landlords aside, South Philly was the best. Still, I grew restless and moved with two friends into a spacious three-bedroom rowhouse in Kensington. (If you feel compelled to make a joke about the neighborhood's rep for drugs and prostitution, don't.) The only drawback here, in the early days, was a dearth of nearby food options — my diet these six months consisted mostly of cheesesteaks, hoagies, pizza, takeout Chinese and, very occasionally, mofongo from the Caribbean joints on Lehigh Avenue. Only a Save-A-Lot grocery store prevented the area from becoming a full-blown food desert.
Otherwise, things were damn-near idyllic in a Jane Jacobs sort of way. I'd sit on my stoop and see roving interracial gangs of high schoolers popping wheelies on their BMX bikes. The smoky dive bar on the corner had been there since 1904, and its owner's name matched the name on the sign outside. When the weather turned warm, kids played in open fire hydrants or blowup pools placed right on the sidewalk. My bedroom window faced a public playground, and after the school year ended I witnessed dozens of local teenagers using it as a makeout spot. Once, things took a turn for the X-rated. I politely drew my blinds.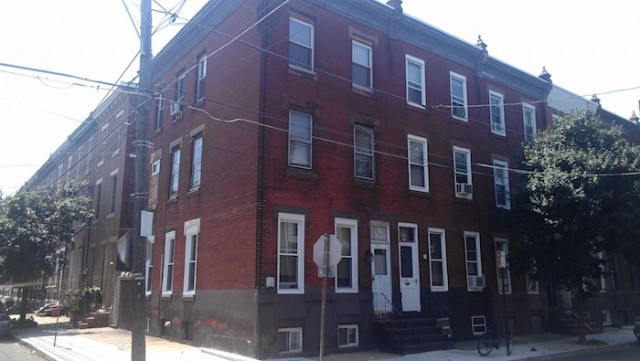 June 2014-Present
E. Belgrade Street, Philadelphia, Pa., $450/mo.
I live in a third-floor Fishtown apartment with air conditioning (!!!) and enough closet space to fit all my clothes (not too many, but still: !!!). My landlord, who lives on the second floor, owns the place, keeps it clean and well furnished, and has a job where she travels for weeks at a time. The third tenant, as of this writing, hasn't moved in yet, and presently I have the third floor to myself. There's a washer and dryer in the bathroom next to my bedroom. I once kept my bike locked out front for four days on end, and nobody tried to steal or tamper with it. The kitchen is fully stocked and the whole building smells pleasant. Who even deserves such luxury?
Matt Bevilacqua is a writer and editor in Philadelphia. He still drinks alone and watches Netflix, but only sometimes.
---
Support The Billfold
The Billfold continues to exist thanks to support from our readers. Help us continue to do our work by making a monthly pledge on Patreon or a one-time-only contribution through PayPal.