Where We Work and When We Get Up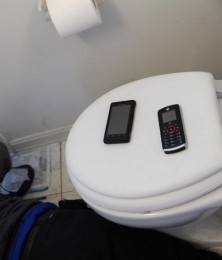 I've have worked in many places in my home: in bed; in the kitchen, at the counter; on the staircase of my apartment building; in the basement while doing laundry; outside at the entrance of my building. There is one place that I haven't worked and that is the bathroom. The bathroom is a devices-free zone — I'm in the bathroom to do my business, not do my business (sorry). And yet:
In the digital age, it's easy to work anywhere, anytime (and all the time), including in your house or apartment — all over your apartment. Even in what might have previously been considered the last sanctuary of not responding to your boss's emails: the bathroom. That is especially true in work-obsessed New York. In the words of the Swedish furniture giant: "quite a few New Yorkers have no issue conducting their business where other business is traditionally done."
A full 17% of New Yorkers admitted to having worked or studied on the toilet. So did 17% of people in Stockholm. In cities like Berlin, London, Moscow, Mumbai, Paris, and Shanghai, the bathroom workforce was closer to 10% of respondents.
This is according to a "Life at Home" report by Ikea, which surveyed more than 8,000 people across the world. Other data: 51 percent of respondents in New York said they wake up before 7 a.m. (including me) even though 56 percent of New York respondents said they didn't consider themselves morning people. In London, 44 percent of respondents said they woke up before 7 a.m.
Also for you advance planners: 24 percent of New York respondents said they packed their lunch the night before, and 35 percent said they picked out their clothes before as well. I remember what it was like to be one of those people.
Photo: Wonderlane