What Correlates To Productivity in Kids And Nations Alike?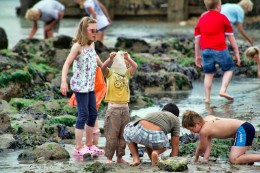 Surprise, surprise: Kids whose time is less structured are better able to meet their own goals, and the most productive nation, for the fifth year in a row, is Switzerland, where employees enjoy 28 days of federally mandated vacation time. What can we learn from these two news items, especially together?
1) Take your vacation days. That's what they're for, if you're lucky enough to get them at all. Obvious? Not to most Americans:
Because America leaves firms to their own devices on break policy, the amount of PTO (paid time off) Americans get varies vastly between socioeconomic classes. Only half of low-wage workers (bottom one-fourth of earners) have any paid vacation, the study found. Compare that to 90% of high-wage workers (top one-fourth of earners): The 77% of Americans who do get paid vacation time get an average of 13 days. … working too hard is making us stressed, sick and disengaged from our jobs, says Brigid Schulte in the Washington Post. We rank in the bottom section of the work-life balance scale from the Organization for Economic Co-operation and Development. But part of the blame can be placed on the American workforce itself: Only 56% of Americans take the vacation time that's given to them, according to a study by the employment firm Hudson.
That's maddening. If you're not using your days, give them to me! I'm still only on episode 3 of the new season of "Orange is the New Black."
2) Let your kids roam free and everyone wins. Less driving for you, more being driven — in an organic, internal way — for them.
Children who spend more time in less structured activities — from playing outside to reading books to visiting the zoo — are better able to set their own goals and take actions to meet those goals without prodding from adults, according to a new study by the University of Colorado Boulder. The study, published online in the journal Frontiers in Psychology, also found that children who participate in more structured activities — including soccer practice, piano lessons and homework — had poorer "self-directed executive function," a measure of the ability to set and reach goals independently.
---
Support The Billfold
The Billfold continues to exist thanks to support from our readers. Help us continue to do our work by making a monthly pledge on Patreon or a one-time-only contribution through PayPal.