The Cost of Things: Trying to Fly With a Gun in Your Carry-On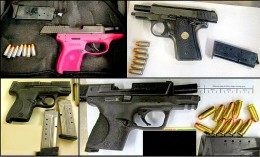 How many times do we have to tell you? When you fly, leave your brass knuckles, credit card knives, inert grenades, batons, and Tasers at home. Please do not attempt to take guns on the plane. Especially not loaded guns, and especially not guns with rounds chambered.
What's a credit card knife, you say?
More and more credit card knives being discovered at airport checkpoints. A credit card knife fits in a wallet just as a credit card would, hence the name. They're slightly thicker than a credit card and one unfolds into a knife, while other types have a blade that pulls out. It's the type of item that when tucked away in a wallet is out of site and out of mind, so many travelers simply forget they have it. Today's tip is a reminder to put these types of items in your checked baggage or simply leave them at home. It's always a good idea to double check your bags and other belongings for prohibited items prior to traveling.
The TSA keeps a blog where it lists weekly tallies of the weaponry and contraband confiscated at airports across the country. Just this month, Americans set a new record, so lets give ourselves a hand!
Record Number of Firearms Discovered in One Day — On June 4, 18 firearms were discovered around the country in carry-on bags. That broke the previous record of 13 set in 2013.
Trying to smuggle weaponry onboard — or just forgetting you have your Derringer on you — can cost you as much as $7,500 and get you arrested. Just, you know, a heads up.
Image of actual guns confiscated by TSA, via the TSA blog
---
Support The Billfold
The Billfold continues to exist thanks to support from our readers. Help us continue to do our work by making a monthly pledge on Patreon or a one-time-only contribution through PayPal.