Places I've Lived: A Dormitory for the Arts, Urban Hilltops, and a Former Department Store
by Marissa Barker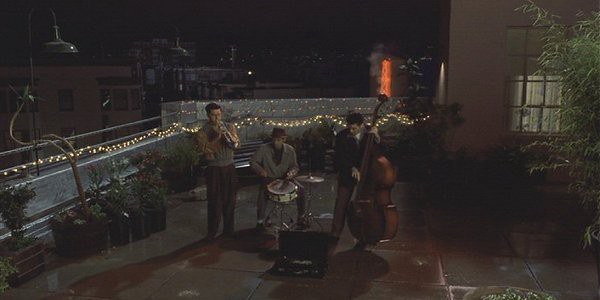 We had a roof deck on which Mike Myers performed beat poetry in So I Married an Axe Murderer­.
September 2002 — June 2003, Prado Hall, Mesa Court Housing at the University of California, Irvine, a chunk of my freshman year tuition.
Prado happened to be the dorm I got to check out on a campus tour during college decision time. It was the arts themed hall; downstairs, there was a piano in the shared living room so the musical theatre and composition majors could rehearse, and upstairs in the communal kitchen was one long, mirrored wall for the dance majors to use for practice. I knew I had to live there.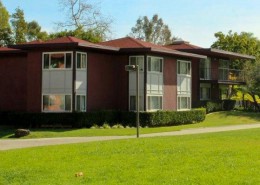 I was a drama club kid in high school, but decided to give up on acting in college and study movies without trying to be in them. Prado's population was half art majors, half art majors at heart. We humanities, math, and science students still wanted to hang out with the drama club kids.
Wacky adventures were had by all, including turning the dorm into an epic haunted house for Halloween, watching the traditional streakers run by from the balcony before finals week, and stealing a gurney from the parking lot. I have no good explanation for that last one. We'd go to the beach, make late night trips to In-N-Out, and every other Friday we'd see "Live Nude People," the campus improv group which starred a few of our dormmates. For the most part, everyone adored each other and we broke off into smaller factions to live together for the rest of college.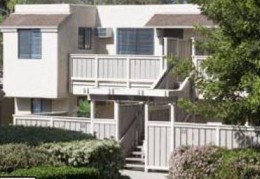 September 2003 — June 2004, Rosa Drew Lane, Irvine, California, $276/mo.
Four other Pradoians and I squeezed into a two-bedroom apartment about three miles from campus. We lived mostly peacefully until close to the end of sophomore year when two of us wanted to sublet the place and move out for the summer, two of us wanted to stay, and one didn't care. Team Sublet won the battle and I found myself back in my hometown for a couple of months. This caused a rift, which we thankfully had all decided to forget about by the time our junior year rolled around.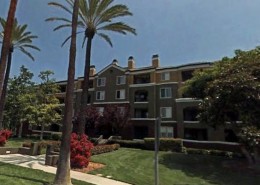 September 2004 — July 2006, Via Ricasol, Irvine, California, $414/mo.
Ah, the quaint Tuscan countryside of…Orange County. One girl from the previous apartment and I teamed up with another pair from Prado and rented a two-bedroom unit in Toscana, a shiny new complex with two pools and no Italian flair aside from its name. Despite being a mild-mannered, studious bunch — we co-founded a women's rights club on campus together — we threw many parties which left us with an ever-changing supply of bad college booze on top of the fridge.
Since half-empty bottles of Jägermeister weren't my thing, I spent a lot of time during my senior year at a wine bar up the street. The proprietor had been in culinary school when he suddenly went blind. Without sight, his senses of taste and smell were enhanced and he got really into wine. I'd eat ramen all week just to be able to go this place on Saturday to order a glass of Sauvignon Blanc with a cheese plate, chat up the handlebar mustachioed bartender from New Orleans, and pretend to be an adult. This is when I got really into wine.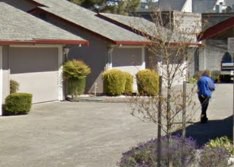 August 2006 — May 2007, Mom's house, Rohnert Park, California, free for a few weeks, then $300/mo.
After graduation, I moved back home to break into the wine industry. My mom was happy to let me live in my old room for free until I found a job. She then charged me $300 a month, which I whined about at the time but now believe was completely fair. I worked at a beautiful winery in the Carneros region for a year and a half where I tasted lots of Pinot Noir, noshed on leftover gorgonzola from the wine and cheese pairing program, and gained ten pounds. I considered settling down in Napa but I was mostly becoming obsessed with the idea of moving an hour south to San Francisco.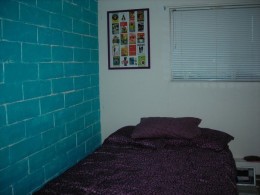 June 2007 — June 2008, Avram Avenue, Rohnert Park, California, $510/mo.
In the midst of the wine country versus big city debate, a good friend of mine from high school wound up with a recently vacated room in her apartment and I moved in. The room had one cinder brick wall which had been painted turquoise. That wall had moxie. When my roommate and I weren't watching trashy TLC shows and eating cheap pizza, I was applying for jobs in San Francisco to see if something would happen, and eventually it did.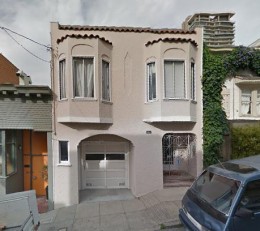 July 2008 — August 2009, Glover Street, San Francisco, California, $900/mo.
The moment I was offered a job in San Francisco, I began hounding Craigslist for open rooms in any neighborhood I was vaguely familiar with. I went on several "interviews" after work before my two-hour commute back to Rohnert Park. The places were either great, but the roommates didn't want me, or the roommates did want me, but the places were terrible.
I was starting to get burned out from the search when I showed up at a cute house on an alley street on top of Russian Hill. The three delightful people already living there were burned out from iffy prospective roommates coming by to ask if they could store boxes of the off-brand energy drink they were trying to sell in the garage. I assured them I had never even consumed an energy drink, off-brand, name-brand, or otherwise, and they offered me the room on the spot.
In the mornings, I would walk to my office in the Financial District through Chinatown and pass the old folks doing tai chi in Portsmouth Square. I'd take the California cable car home after work and get off right in front of Grace Cathedral. I ate way too many Nick's Crispy Tacos. It was the best of the postcard version of San Francisco. A few years ago, I clicked on an article from Dwell magazine that featured a "Mid-Century Mashup" home in Russian Hill. It was our next door neighbor's house and you could see half of my old bedroom window in the lead photo.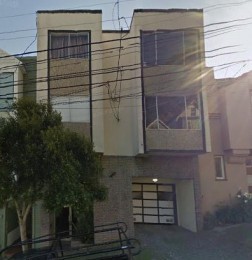 September 2009 — March 2013, 28th Street, San Francisco, California, $925/mo.
When one of my best friends from college decided to move to San Francisco from SoCal, we looked for an apartment together. I was inexplicably attracted to Noe Valley, a neighborhood I'd never even visited. My unfamiliarity with that part of town was evident when we went to check out a place on steep 28th Street. I had us get off the J train about ten blocks too early and we had 15 minutes until our appointment with the property manager. My friend, not yet used to San Francisco's uneven terrain, but sort of used to me being occasionally stupid, allowed me to run ahead to get there on time. The view of the East Bay from the living room window took my breath away, but that may have been because I was literally out of breath from racing up the hill. We signed the lease later that week.
In our group of friends, we were the only ones with cable and our little abode became the hub for Oscar parties, season finales, and Ken Burns documentary premieres (we drank local 21st Amendment beer for Prohibition!). The neighbor I shared a wall with had cable, too. I knew this because her television was on all day every day with the volume on high. I got used to her viewing habits, grumbling about her terrible taste in entertainment and the fact that I had to listen to it. The one time I heard the theme song to Barney Miller blaring out of her window, I let my crankiness subside. That bass line is classic.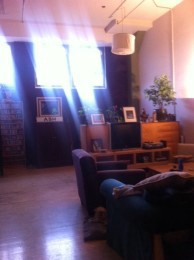 April 2013 — present (but not for much longer), Cesar Chavez Street, San Francisco, California, $775/mo.
My tiny box of a room has no windows and no closet, yet I feel this is the place in my apartment history that I may always look back on most fondly. The building used to be a Sears department store until it was converted into artist lofts in the 1970s. Today, it houses an assortment of artists, non-artists, and creative businesses — a little like Prado for grown-ups.
I share the space with two humans, two elderly dogs, and a darling tabby cat. My next door neighbor is a dance studio. The salsa club behind us pipes music through the bathroom window, making brushing your teeth at night a danceable experience. We have a roof deck on which Mike Myers performed beat poetry in So I Married an Axe Murderer­ (Nancy Travis' character lived in the building). The bus I take to work stops right across the street. I'm within walking distance of the Mission's best taquerias and dive bars. The neighborhood is blissfully flat.
I feel so lucky to have lived here, but also ready to move on. In August, I'll be leaving the loft behind to do some traveling. My first stop is Hong Kong, then Vietnam, then who knows? Between Napa Valley vineyards and the streets of San Francisco, I've seen a lot of beautiful stuff. I'm excited to discover what else is out there.
Marissa Barker will be leaving her heart in San Francisco this summer.
---
Support The Billfold
The Billfold continues to exist thanks to support from our readers. Help us continue to do our work by making a monthly pledge on Patreon or a one-time-only contribution through PayPal.