Link Round Up: Student Loans and More Student Loans; Millennials Hoarding Cash Like Dragons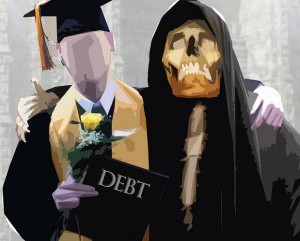 President Obama's move to help ease the student loan crisis started a cascade of think pieces about student loans over the weekend. Here are a couple of the most interesting:
+ Here's Why the Student Loan Market Is Completely Insane, via Businessweek. Complete with charts! Oh, and facts, lots of sobering facts:
Default rates at such places as Stanford, Duke, Carnegie Mellon, MIT, and Yale are all less than 2 percent. Not surprisingly, graduates from these schools command high salaries in the job market. At such places as West Virginia, Louisville, South Florida, and Boise State — schools much better known for athletics than academics — default rates are 10 percent. Further down the food chain are much higher default rates at places such as Alcorn State (16 percent), Colorado Technical University (23 percent), University of Phoenix (26 percent), Lincoln Technical Institute (30 percent), and Arizona Automotive Institute (42 percent).
+ Finding Shock Absorbers for Student Debt, via the NYT, also concerns itself with the problem of default, and wants to help cushion students against the risks they incur by paying for college.
The core problem with student debt is that we don't adequately insure students against the risk of investing in college. While a vast majority of undergraduates have borrowed much less than some headlines suggest — in one study from the last decade, 98 percent borrowed less than $50,000 and four out of 10 borrowed nothing at all — millions are in default or behind on payments. With damaged credit records, they face higher interest rates on car and home loans, rejected rental applications and lost job opportunities. … But how can we help in the short term? We should allow student-loan payments to rise and fall with income, as we do with Social Security and taxes. If borrowers hit a tough spell, payments should drop automatically. If they score well-paying jobs, payments should rise. This is called "income-based repayment."
+ Perhaps all of this has something to do with why millennials are hoarding cash like dragons?