Penny For Your Thoughts?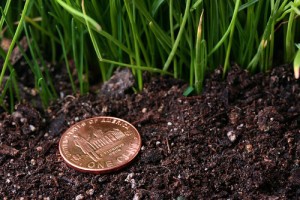 Contest fees, usually small amounts that can still add up quickly, are often what keep small, worthy institutions like literary magazines in business. They cover the administrative and overhead costs that are hard to raise money for otherwise, and/or they go to pay for judges; more importantly, they also serve to keep the contest from getting inundated with inappropriate entries. The higher the fee, the more you have to ask yourself, as a aspirant, "Do I really think I have a shot at winning the 27th Annual American Kennel Club Fiction Contest when my story is only nominally about a Rottweiler?"
In a twist on the pay-to-play structure, Gigantic Magazine has announced a Penny-a-Word Flash Fiction Contest, wherein your entry fee depends entirely on the length of your submission:
we will be accepting submissions of one to 1,000 words with a submission fee of one penny per word (title included). For example, if the story is sixty-five words long (including the title), you pay sixty-five cents. If the story is 403 words, you pay $4.03. And who said a penny can't buy anything these days?*
*Actually, it can't buy anything here either: due to the PayPal constraints, the minimum amount for payment is ten cents.
An intriguing model! Go for brevity and save; or let your imagination run wild, but get ready to pay for the privilege. Does the penny-a-word gambit make you more or less likely to submit? And how much is too much to pay for the privilege of most likely getting a form letter rejection by email in two months? (I wonder this all the time.) Bear in mind, the Grand Prize is $100, presumably paid out in pennies.
---
Support The Billfold
The Billfold continues to exist thanks to support from our readers. Help us continue to do our work by making a monthly pledge on Patreon or a one-time-only contribution through PayPal.