The Rust Belt, a Biodynamic Farm, and Other Places I've Lived
by Nicole Johns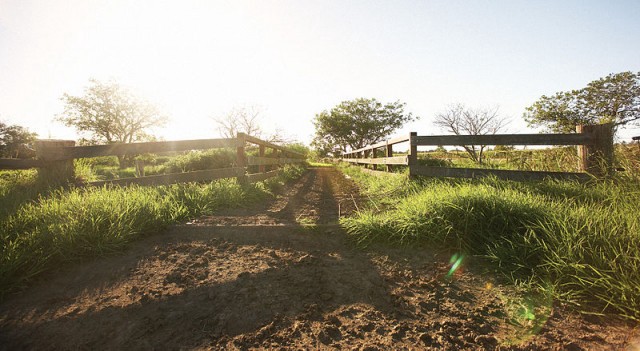 Where have you lived, Nicole Johns?
Chestnut Street, Saltsburg, Pa., 1981–1997 (and a few months here and there until 2006), FREE
Chestnut Street was a great place to be a little girl in the 1980s and 1990s, in part because my maternal grandparents lived next door, and my paternal grandparents lived a few blocks away; they doted on me, and I was wildly spoiled. I free-ranged as part of a gang of little girl bicyclists who rode wild over the hills of western Pennsylvania. The back part of our property contained a field with a ramshackle gray cement chicken coop and a cliff that dropped down to the Conemaugh River, along with wild raspberry bushes and a pear tree, and a fair amount of snakes, including copperheads. In the mornings, fog would often rise off the river and hover over the back field. In the summer, the hills were lush with humidity.
South Cottage & Tippetts Hall, Mercersburg Academy, East Seminary Street, Mercersburg, Pa., 1997–1999, Housing included in tuition
In the fall of 1997, my parents and I headed east on the turnpike and I entered the world of elite East Coast boarding schools. My upper-middler year (fancy boarding school-speak for junior year) I lived in South Cottage, which served as an infirmary during the Civil War battle of Gettysburg. It was a creaky old building that was supposedly haunted. During my year in South Cottage, I never had to deal with the ghosts of the Confederate or Union dead, but I did have to contend with high-caliber mean girls. From my window on the second floor of South Cottage, I had a lovely view of the Tuscarora Mountains, and instead of doing my homework during mandatory evening study hall I'd often daydream about leaving the hills of Pennsylvania.
My senior year, I lived with one of my friends, Emily, in Tippetts Hall, which we referred to as a warehouse of girls, because of its long, dimly lit hallway. Living in the warehouse of girls was a blast, in part because most of us were friends, and there were not many mean girls in Tippetts Hall. Every day after school, Emily and I headed to the field behind Tippetts Hall, aptly named Tippetts Beach, where we ate pint upon pint of Ben & Jerry's and Otis Spunkmeyer cookies by the dozen, and discussed the work of Simone de Beauvoir, Betty Friedan, and Liz Phair. In the spring we sunbathed ourselves to brilliant shades of scarlet, and in the winter we went sledding. There was one mean girl in Tippetts Hall, a burly girl from Wyoming who threatened to break my nose on one occasion, but otherwise life in Tippetts Hall was easygoing and fun. I loved boarding school, and the day I graduated, I cried the whole way to the turnpike.
712 Myrtle Street, Erie, Pa., Summer of 2000, $325/month+utilities
After my freshman year at Penn State-Erie, I moved in with my friend Janice for the summer, because I didn't want to spend my summer in Saltsburg, and it sounded like fun. I signed up for Algebra during summer session to get one of my required math classes out of the way, and I worked at Chi Chi's as a hostess. Every morning I hopped on the bus and headed to campus, where I tried in vain to understand how numbers and letters work together in equations, and then I took the bus to Chi Chi's where I donned my chili pepper-patterned button-down shirt and answered the phone like this, "Hola, thank you for calling Chi Chi's of Erie." I was awful at both algebra and hostessing. I failed Algebra and I once caused a 60+ minute wait at Chi Chi's.
When I wasn't attempting to solve equations or seating families of four, Janice and I were listening to Ani DiFranco and making elaborate feminist-themed collages while drinking cheap wine. We often met up with our friend Andrea, and we'd head to Presque Isle State Park, where we'd drive around the beaches and stick our feet in the polluted waters of Lake Erie. Later, we'd stop for ice cream at a local place at the entrance to Presque Isle called Sara's. We made several road trips that summer to other Rust Belt cities. We drove to Buffalo, N.Y. to attend a dual Ani DiFranco and Buffalo Philharmonic concert. I was broke and couldn't afford a ticket, but Andrea bought one for me as a 19th birthday present. We also headed to Cleveland, Ohio for a ribfest, even though we were vegetarians that summer.
Hawthorne Valley Farm, 327 County Road 21C, Ghent, N.Y., Summer of 2001, Room and board included in my salary
The summer between my sophomore and junior year at Penn State-Erie, I was a camp counselor at a biodynamic organic vegetarian farm camp in the Hudson River Valley. Most of the kids who attended farm camp were from wealthy New York City families, and they were enrolled at the Rudolf Steiner School. Our days at camp started with morning farm chores like feeding the chickens and collecting eggs, then we ate breakfast, and had a morning meeting where we sang folk songs before moving on to more chores, like mucking out the cow barn. Lunch was always bread, soup, and salad, and the afternoons were filled with activities like archery, hiking, or swimming in the pond. In the evening, after dinner, we gathered in the farmhouse and sang more folk songs. It was an idyllic, peaceful summer, and I developed large arm muscles and a deep tan.
East Grandview Boulevard, Erie, Pa., 2002–2003, $312/month+electric
My senior year at Penn State-Erie, my friend Daniel and I rented an apartment together. We played a lot of old school Super Mario Bros. on Doug's old Nintendo system, and we had a series of epic parties. Here are the occasions we celebrated with a party while we lived on East Grandview: literary magazine launch, my 21st birthday, Halloween, my graduation, and graduate school acceptance at the University of Minnesota. Our parties consisted of my English major friends coming over, drinking Yuengling, Rolling Rock, and Railbender while debating the merits of Gabriel Garcia Marquez's Autumn of the Patriarch. Sometimes, members of the English department showed up, six-pack in hand. One memorable incident involved my current boyfriend at the time, Tad, insisting that Hoobastank was the best band of all time. We broke up shortly after that party.
That winter Erie received 137 inches of lake effect snow, and Daniel taught me how to drive in the snow by going down to the Kmart parking lot and practicing. My friend Kristine, who also lived on East Grandview, would invite me over for drinks, and then we'd go play in the snow, or go sledding. I worked at a now-defunct store called Media Play, with a bunch of other English major nerds, and after we closed the store, we'd head to The Village, one of Erie's two gay bars, to watch drag shows. I bar-backed at The Village as a second job, and I loved watching the drag queens transform backstage. I wore low-cut shirts and received ample tips, and when sleazy men would ask for my number, I gave them the number for Erie's weather hotline. I have a fierce love for Erie, that old Rust Belt down-on-its-luck town. Even now I miss it.
East 24th Street, Minneapolis, Minn., 2003–2006, $375/month+utilities
I enrolled in the University of Minnesota's Creative Writing MFA program in 2003, and my stipend was $10,500, so my rent budget was incredibly low. I shared a big, run-down house with three other graduate students in the Seward neighborhood of Minneapolis. The Seward neighborhood is filled with urban hippies, and it has several good restaurants and coffee shops. There is also a big park, where they flood the baseball diamond in the winter to create a skating pond, and like a good Upper Midwesterner, I learned to ice skate. I could also walk to school, which came in handy when the city bus drivers went on strike. Every day, I walked across the Franklin Avenue Bridge, which spans the Mississippi River. The act of walking over that big river filled me with heady delight. I was far from the hills of western Pennsylvania.
We lived on the top floor of the house, and our downstairs neighbors consisted of a hipster dude who plastered his giant 1985 Buick with Ron Paul stickers, and a 60-year-old ex-Episcopalian priest who ordered male hookers at all hours of the night, with whom he had loud, grunty sex. He would hang his giant white man panties on the clothesline, and they gently flapped in the evening breeze, like white flags of masculine surrender. We also had a massive Halloween party one year, that involved everyone crowding onto the balcony and singing "Proud to be an American" at 3 a.m.
Vermont Studio Center, Pearl Street, Johnson, Vt., Summer 2006, FREE as part of writer's residency
The summer after I graduated from the MFA program, I did a month-long writer's residency at the Vermont Studio Center. I packed up my old Plymouth Neon and headed east, first stopping in Pennsylvania, and then visiting my friends along the East Coast. I stopped in Allentown, Pa.; Providence, R.I.; and Boston, Mass. on my way to the Vermont Studio Center. That drive gave me lots of time to think about my MFA thesis, a memoir about going through eating disorder treatment, which I was trying to turn into a book. All of the thinking I did during the drive cleared my head, and when I sat down to write, I found that I had worked out a lot of the problems in my manuscript while driving.
That month at the Vermont Studio Center was exactly what I needed after the MFA program. Northern Vermont is a lovely, peaceful place to finish a book and draft a query letter for a literary agent search. After spending three years in the flat lands of the Upper Midwest, I appreciated the mountains in a way I never had before. I spent my mornings working in the kitchen as part of my work-study duties, and I spent my afternoons either writing or reading a book down by the creek. In the evenings, the artists and writers would have bonfires or gather on the porch of the main building to talk and drink. At the end of the month, I drove back to Pennsylvania, and then back to Minnesota, where I moved in with my friend Cami.
46th Avenue S, Minneapolis, Minn., 2006–2008, $500/month+electric
When I left Vermont, I wasn't sure what I wanted to do with my life (other than write), or where I wanted to live. I toyed with the idea of moving to Montana, and living with some friends from Penn State-Erie who had relocated there, but instead I decided I wasn't quite ready to leave Minneapolis, so I called my friend Cami from the Johnson, Vt. Grand Union pay phone, and we agreed to give living together a try. It worked out well, and we lived together until after I got engaged. Of all of the places I've lived the house I shared with Cami in the Longfellow neighborhood of Minneapolis was my favorite, as the house was a lovely old Minneapolis house with hardwood floors, original built-in cabinets, and spacious rooms. Cami and I were a perfect fit for each other as roommates, and the time I spent living with Cami was one of the best times of my life.
Cami and I shared the bottom floor of a duplex, and most of our excitement came from our upstairs neighbor, an alcoholic named Jane, who would drink so much that she'd pass out with the television blaring. One evening, I pulled up in front of our house and saw that the front door was open, and that there was a police car parked out front. When I entered our apartment, I saw Cami standing in the back stairwell, eavesdropping on Jane. Someone had asked the police to do a wellness check on Jane since she hadn't been to work in a week. The police led Jane down the back stairs and through our apartment, and Jane tried to hug Cami, and she winked at me, while Cami ogled the police officer. Our other neighbors were also a source of excitement, as a rotating group of young women lived in the house beside us. They fought at all hours of day and night, calling each other skanks, slamming the front door, and then peeling out on the street.
Pierce Street NE, Minneapolis, Minn., 2008–2009, $500/month+utilities
In the spring of 2008, I got engaged to my husband Brady, and I moved into the house he rented from his friend Duane in Northeast Minneapolis. While we enjoyed having a big house to ourselves, the house itself seemed cursed. While we lived there, it was struck twice by lightning, and the television would randomly come on by itself in the middle of the night. It also had the creepiest basement ever, complete with a dirt floor and ample amounts of large spiders. Even when the tornado sirens went off, I never went in the basement.
Even if it was cursed, Duane's house was wonderful, in that we had a backyard where we could grill, we had good neighbors, and we had a fireplace and a huge woodpile, which came in handy during the frigid Minnesota winter. It's also the first place Brady and I lived together, and the place where we planned our wedding and our life together, so it will always be special to me. In addition, sometimes a flock of urban turkeys appeared on our garage roof, and the fattest cat I have ever seen roamed the streets of Northeast. Our neighbors foisted tomatoes and peppers on us all summer long, and were genuinely good people.
Arundel Street, Saint Paul, Minn., 2009–2010, $425/month+electric
Shortly before we were married, Brady and I moved to Saint Paul. Our apartment was located in the Cathedral Hill area, which is a beautiful old neighborhood. While we loved living in historic Saint Paul, we did not love the lack of soundproofing in our apartment. We lived on the first floor, and we could hear everything that the couple above us on the second floor was doing. Everything. Our first morning at our apartment, we realized our bedroom was directly below our upstairs neighbors' bedroom when we overheard the following statement, verbatim:
"It's warm on your side of the bed. Oh well, back to reality!"
Our windows also faced the parking lot of a bar, and so late at night, when the drunks would come stumbling through our parking lot, we heard all about their night at the bar, and who was sleeping with whom.
While our actual apartment left something to be desired, we loved living close to downtown Saint Paul, and within walking distance of the mansions of Summit Avenue. However, we did not love it enough to stay, and so after one year we left for the suburbs, where we found a condo with lots of amenities, and cheaper rent.
Nicole Johns is a writer and English instructor living in a suburb of Minneapolis.
Photo: Wikimedia Commons
---
Support The Billfold
The Billfold continues to exist thanks to support from our readers. Help us continue to do our work by making a monthly pledge on Patreon or a one-time-only contribution through PayPal.