Melissa McCarthy is Saving Hollywood (You're Welcome)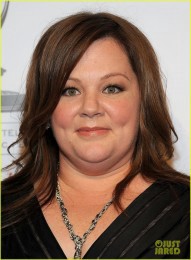 Melissa McCarthy meets very few of Hollywood's usual specifications for stars. At 43, she is not young. Nor is she "hot" in that prototypical Polly Pocket kind of way. She is not even a novelty, since has been around doing solid TV work for decades. But now, suddenly, according to Vulture, she is making it rain, big time, on the big screen:
There is no other star in Hollywood delivering as consistently, and in such great numbers, and with so little assistance, as Melissa McCarthy. On July 2, McCarthy's Tammy will arrive in theaters amid high expectations. Her five most recent movies have earned more than $650 million in the U.S., which is remarkable enough on its own. But even more impressive is what happens when you consider only the films in which she was a top-billed star, excluding the hits that had help from a brand name (The Hangover III) or an ensemble cast (Bridesmaids, This Is 40). Comedies Identity Thief and The Heat — which were rated R and had little to recommend them besides the appeal of McCarthy — made tons of money anyway ($135 million and $160 million domestic, respectively).
In other words, she is turning her work on the silver screen into solid gold. Vulture goes on to list her competition, and those are some impressively shiny names. Even if you don't necessarily buy the logic by which they put her among or even above Denzel Washington, Liam Neeson, Sandra Bullock, Matt Damon, Robert Downey Jr., etc., you have to admit it's astonishing — and, assuming you like funny ladies, which, that's why you're here, right?, AWESOME — that a woman recently best known for playing second fiddle on a CW sitcom is now taken at least as seriously by power players as Tom Cruise and Angelina Jolie.
Of course, Vulture cautions that audiences are notoriously unreliable:
The public is fickle, especially when it comes to comedy, and could turn on McCarthy any minute — ask Sandler, or Jim Carrey, or Robin Williams, or Eddie Murphy, all formerly unstoppable. But still, if we had to bet on just one star this summer, it'd be McCarthy.
I don't get to see a lot of mainstream studio comedies anymore but I'll confess, The Heat did it for me. I was a giddy giggling mess by about 10 minutes in. Not to mention Bridesmaids was like a paintball game of funny, where brilliant women run around shooting Funny at you until you are almost in pain from the relentless hilarity. So yeah, the Billfold is rooting for you, Melissa McCarthy! You show 'em what's up. (PS: What do you bet she is an only / firstborn girl?)
---
Support The Billfold
The Billfold continues to exist thanks to support from our readers. Help us continue to do our work by making a monthly pledge on Patreon or a one-time-only contribution through PayPal.