Choosing a College Major Based on Salary Prospects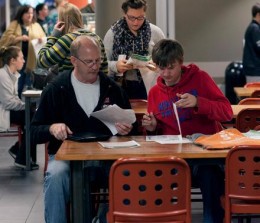 Over at The Wall Street Journal, there is a discussion about "the importance of selecting a major to make a living — and having a life." Panelists include: Carol Geary Schneider, president of the Association of American Colleges and Universities; Anthony Carnevale, director of the Georgetown University Center on Education and the Workforce; and Jason Tyszko, senior director, policy, education and workforce, for the U.S. Chamber of Commerce.
A fair response from Anthony Carnevale:
As the economic value of education increases, we will need to remember that education, especially higher education, is about more than dollars and cents. It should do more than provide foot soldiers for the American economy. Educators in both secondary and postsecondary institutions have cultural and political missions to ensure that there is an educated citizenry that can continue to defend and promote our democratic ideals. Moreover, educational institutions need to be preserved as safe havens free from both political and economic power.
If commodification means investing in narrow job training, it's just bad economics. General occupational competencies like problem solving and critical thinking are the patient capital in most occupations nowadays. They enable and leaven further learning in applied contexts.
But, if secondary and postsecondary educators cannot fulfill their economic mission to help youths and adults become successful workers, they also will fail in their cultural and political missions to create good neighbors and good citizens. And increasing the economic relevance of education should, if done properly, extend the educators ability to empower Americans to do work on the world, rather than retreat from it.
Photo: COD Newsroom