My Last Hundred Bucks, Spent Mostly at the Airport
by Kelly Maxwell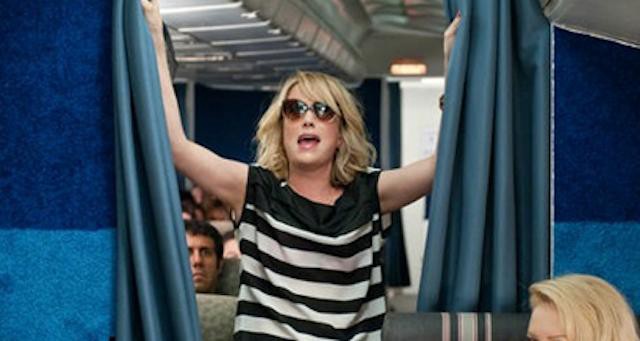 Where'd your last hundo go, Kelly Maxwell?
$9.22, Six-pack from Fort Collins Brewery, Red Banshee
A Colorado Liquor-Mart is an overwhelming experience for someone who has been getting her beer at a Duane Reade drug store for the past few years. I browsed the local beer section for far too long, lost in the options and the vast square footage of the place. Admittedly, I ended up choosing this beer mostly because of the name.
$25, Checked bag fee on United
I was stranded in Colorado after my flight was cancelled. Twice. Four more days to visit with family was a welcome, but exhausting, surprise. The check-in lady took one look at my carry-on and shook her head. That was it. I had lost the fight.
$11.97, Airport magazines and Diet Coke
The only time I will allow myself to read garbage magazines is at an airport. Somehow, this justification makes it easier to silence my self-judgment for reading InStyle or Glamour in a public setting. I can't be the only one who does this, right?
$6.95, Airport breakfast burrito
When you get to DIA, you see a giant blue stallion sculpture, with demonic glowing red eyes and a sordid past. Seriously look it up. DIA is messed up. The demon pony might have served as a warning of the pain to come, but I ignored the signs. I ordered a breakfast burrito, at the airport eatery closest to the gate, with a side of sour cream (no charge!) and the hottest salsa they had. The pain was real and seemed oddly fitting to the situation. I ended up trying to hide spicy salsa tears before 9 a.m.
$35, Cab back from LaGuardia
Normally, I would take the bus to the train to get back home, but the sun was setting on LaGuardia and I felt like everything was going to be ok. The light was pink and my spirit was broken. The idea of standing in some dudes armpit for the next hour, while trying to schlep my apparently oversized carry-on back to South Williamsburg, seemed to be the tipping point. I stood in the cab line and ordered Pad Thai from my Seamless app while sitting in bumper-to-bumper traffic on the BQE.
$15, Seamless, Pad thai delivery
The novelty of ordering food from an app seemed new and novel again. The order minimum or the delivery fee didn't phase me. Food was coming. To me. While waiting for the delivery dude to appear, I opened my carry-on and discovered that the TSA had searched my bag. Looks like coming back from Colorado one day after legalizing recreational weed is a red flag. Before I could mourn New York's lack of legal and abundant recreational marijuana, my buzzer rang.
Kelly Maxwell is a writer and multi-media editor in Brooklyn.
---
Support The Billfold
The Billfold continues to exist thanks to support from our readers. Help us continue to do our work by making a monthly pledge on Patreon or a one-time-only contribution through PayPal.