My First $100 Spent in the New Year
by Michelle Crouch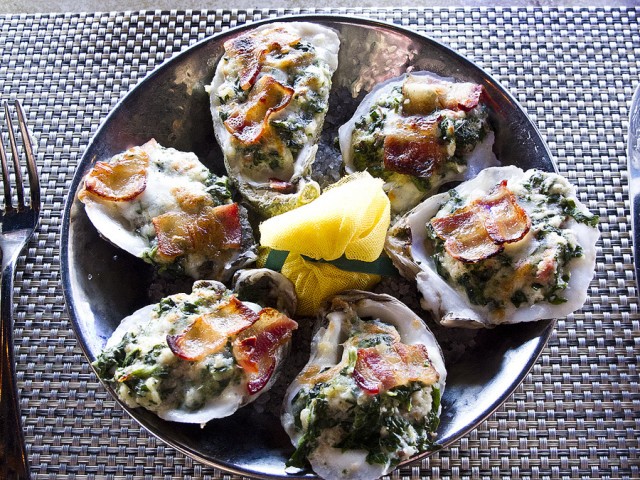 New Year's Eve
$26.70 New Year's Eve party supplies from Food Lion: Prosecco, Candy Cane Oreos on clearance, and a pack of Cumberland Gap brand sliced hog jowls. Total includes $10 cash back, some of which remains in my wallet, but which I can tell you now will go towards parking meters and emergency coffee.
New Year's Day
$0! It is some sort of regional or familial superstition to avoid spending money on New Year's Day. My great-grandfather would not part with one red cent, my mother claims. I usually give up and buy something, but this year I'm happy to report a perfectly Puritanical first day of 2014 spent mending clothes, cleaning, cooking a big mess of collards, and taking the dog on an extra-long walk. It was only maybe a little depressing.
January 2
$48.90 Cape Fear Seafood Company, dinner for two. A few years ago I found myself accidentally at an oyster bar in center city Philadelphia on New Year's Day (the only place to drink that wasn't already completely packed — Philly is an amazing shitshow on New Year's Day, full of surly middle-aged men puking on their gold spray-painted sneakers). It seemed appropriate to celebrate the new year by eating a raw oyster — you know, to capture the vital force of a slimy half-dead mollusc. Since then I've tried to make it a personal tradition to eat an oyster on January 1, which is why I usually end up spending money, but I'm glad we waited because oysters Rockefeller were on special.
$20.94 Liquidation sale at the Blockbuster beside the seafood restaurant. We've reached a point in time where it's not just going to a video store that's nostalgic; a video store going out of business sale is already nostalgic. My husband shared an anecdote while we browsed of driving a friend to work at a place called Video Update in New Jersey in the '90s only to discover it had closed overnight. They taped a pillowcase inside the return slot to collect the movies that unwitting customers dropped off, and then came back later to reap a harvest of VHS. Teen geniuses. Today's haul: Jimmy Carter: Man from Plains; Rocky; Lust, Caution; Creepshow; Rachel Getting Married; Bright Star, Winnebago Man; Cleopatra (1934 Cecil B. DeMille version); The Secret of Kells; a collection of Young Indiana Jones episodes (my preteen romantic ideal); Burn After Reading; Somebody Up There Likes Me; Stories We Tell; The Look of Love; Hallelujah, I'm a Bum (IMDb summary: "A New York tramp (Al Jolson) falls in love with the mayor's amnesiac girlfriend after rescuing her from a suicide attempt"); and one I can't name because it's a gift for a friend who might read this but let's just say it involves late-period Nicholas Cage.
Total: $96.54, leaving $3.46 for roughly a gallon of gas in the car. Here's hoping that New Year's Day frugality counteracts the rest of my impulse food and media purchases in 2014.
Michelle Crouch lives in Wilmington, North Carolina. Photo: Erik Anistad
---
Support The Billfold
The Billfold continues to exist thanks to support from our readers. Help us continue to do our work by making a monthly pledge on Patreon or a one-time-only contribution through PayPal.