An Undocumented Migrant Farmer Talks About Her Life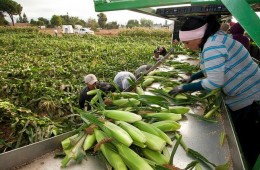 I'd never worked in a field. It was really hard at first — working outdoors with the heat, the daily routine. But I've certainly learned. In a typical year, I prune grapevines starting in April, and pick cherries around Madera in May. I travel to Oregon in June to pick strawberries, blueberries and blackberries on a farm owned by Russians. I take my 14-year-old daughter and 8-year-old son with me while they're on their summer break. They play with the other kids, and bring me water and food in the field. We'll live in a boarding house with 25 rooms for some 100 people, and everyone lines up to use the bathrooms. My kids and I share a room for $270 a month.
I head back to Madera in August for my children to start school. We own our house now — paid off in April! I reached the American dream — ha — thanks to the help of the father of my youngest son, who died in 2007 after he returned to Mexico after a problem with immigration authorities and was killed while working as a policeman. In Madera, I pick grapes that will be made into raisins in September, usually rest in October. In November, I travel each day to Stanislaus County to work planting trees in a nursery until February.
Modern Farmer has a new feature called "Farm Confessional" in which they talk to people who work in agriculture to tell some of the stories that aren't being told. Today, they have an excellent confessional by a 40-year-old undocumented migrant farmworker named Odilia Chavez based in Madera, Calif.
Here's Odilia Chavez on what she earns depending on what she's harvesting:
The work is hard — but many jobs are hard. The thing that bothers me more is the low pay. With cherries, you earn $7 for each box, and I'll fill 30 boxes in a day — about $210 a day. For blueberries, I'll do 25 containers for up to $5 each one — $125 a day. With grapes, you make 30 cents for each carton, and I can do 400 cartons a day — $120 a day. Tomatoes are the worst paid: I'll pick 100 for 62 cents a bucket, or about $62 a day. I don't do tomatoes much anymore. It's heavy work, you have to bend over, run to turn in your baskets, and your back hurts.
On that time she was harassed:
I've been harassed one time: when a boss who drove us out to the field every day wanted to hug me, and said he wouldn't charge me the $8 a day for the ride if I'd go out with him. (Most of us don't have driver's licenses, so the contractors organize rides to work.) I left the job.
On whether she's taking jobs from American citizens:
We're not taking their jobs. In the 14 years I've been here, I've never seen an American working in the fields. I've never seen anyone work like Mexicans. In restaurants and construction, you'll find Salvadorans and Guatemalans, but in the fields, it's almost all Mexicans.
On what she'd do if she became a naturalized citizen (her children are American citizens):
We all want immigration reform. First, I'd get a driver's license, social security, and go see my mom in Mexico. (The last time I went was in 2008, and I had to cross the dessert again with a coyote to get back here — but it was the only option.) I would still work in the fields. I don't know how to do anything else.
Photo: U.S. Department of Agriculture
---
Support The Billfold
The Billfold continues to exist thanks to support from our readers. Help us continue to do our work by making a monthly pledge on Patreon or a one-time-only contribution through PayPal.