The Cost of Moving to a Bankrupt City
by Eric Chiu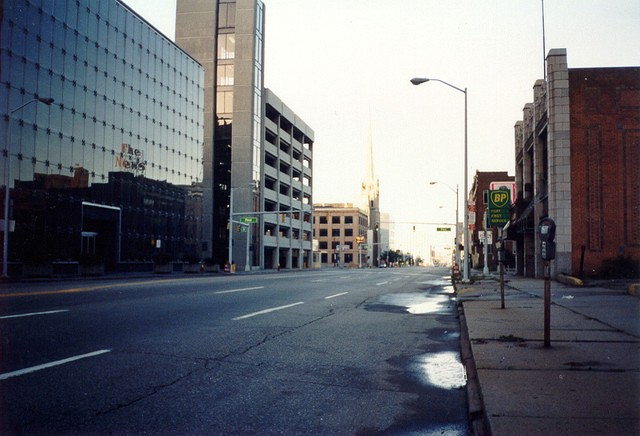 I'm working on a potential move to Detroit from Flint, Mich. in a few weeks. Of course, there's also that other bit of financial news about Detroit, too.
Some notes about the ledger:
$266.66 per person: Rent/security deposit, after it's been divided between the two housemates and I. They're more familiar with the city, so they've taken the lead on most of the moving stuff. Our place is a decent sized three-bedroom townhouse in a quiet neighborhood a few miles west of downtown Detroit.
Imagine the kind of place you'd lease for your senior year of college — it's not luxurious, but it's good enough. The total rent for the house is close to what I paid for a tiny basement studio apartment in college.
The townhouse is also near the Hotel Yorba, so this has been stuck in my head for weeks:
~$60-$80: Gas for the two or four trips it would take to move my stuff from Flint to Detroit in my 2006 Chevy Impala. I'm figuring out what I'd need (my desk) versus what I probably don't need (guitars, drum set) and what I definitely don't need (Rock Band guitars, drum set).
TBD: Income.
$8: Lunch stops at the Steak 'n Shake off the freeway during moving runs.
~$150-$225: My share for buying sofas to furnish the basement and living room. A roommate works in a furniture establishment and over the past few weeks, he's suggested sofas with brown finishes, sofas with gray fabric, sofas with armrests, sectional sofas, sofas without armrests, used sofas, new sofas, etc. I say that that they all look fine. This is not the most helpful response.
~$100: A bed frame and dresser are the only pieces of furniture I'd need to purchase; between my siblings and I, we have extra furnishings in storage that date back to the Carter Administration.
$45+: Bar tab (so far) at the local Buffalo Wild Wings for relieving the effects from third-party Detroit-related consternation.
(Can you even separate being a 20-something in Detroit with the inevitable political subtext? Here, there's the usual frames of Savior Complex and White Privilege, ruin porn-ogling gentrifiers or a misshapen belief in the city's bestowing of urban "cred." Bankruptcy certainly amplifies some of these issues, but it's out of the purview of this aside, save for two digressions:
Of course, the announcement underscores the scope of Detroit's issues, as it's the intersection of a litany of historical, civic and municipal problems. And for something infinitely smaller like paying rent, the bankruptcy's unknowns and known unknowns raise the type of questions that turn the second-guessings of the move into fourth/fifth/etc.-guessings.)
~$40/month: Assorted utilities.
Eric Chiu is a reporter currently living in Flint, Mich. Photo: daviddje
---
Support The Billfold
The Billfold continues to exist thanks to support from our readers. Help us continue to do our work by making a monthly pledge on Patreon or a one-time-only contribution through PayPal.