Welcome to Primm, Nevada
by Liz Shannon Miller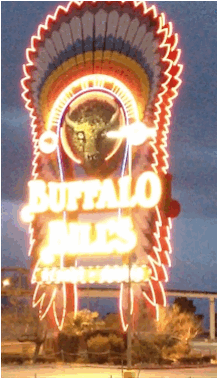 I've always had the idle fantasy about running away from home — hiding out someplace where nobody knows me and I know no one, where I can be totally alone in a crowd. And this month, my fantasy came true, in a little place called Primm, Nevada.
Fantasies coming true in Primm. This is not something that happens very often.
Primm is familiar to Southern California residents as a place you drive by on the I-15 whilst heading to Las Vegas. Nestled in a surprisingly picturesque mountain valley at the California-Nevada border, it can be spotted from miles away thanks to its loud, cartoonish neon lights. (Were it not for Vegas, 40 miles to the north, you could probably spot it from space.)
The town essentially consists of three small casino-hotels similar to those you might find in Vegas, except considerably cheaper — especially during CES (the international Consumer Electronics Show held in January every year), which jacks up Vegas hotel prices considerably. Which was my problem: Having gotten laid off from my cozy TV writing job at the end of 2012, I'd dived into the wonderful world of freelance assignments, one of which (writing jokes and patter for an awards show) would bring me out to Vegas the first night of CES, a Tuesday.
This was fine: I'd drive out Tuesday morning, split the cheapest room I could find with a friend, and then drive back on Wednesday. It'd cost a tank or two of gas, but I'd manage it. The twist came when I looked at my calendar and remembered that one of my favorite soon-to-be-married couples was having their budget-priced, co-ed bachelor/bachelorette to-do in Palm Springs the following weekend.
Palm Springs is kinda-sorta halfway between Vegas and Los Angeles. In a perfect world where I have a Scrooge McDuck swimming pool of gold, I would have just stayed in Vegas a couple of extra days, driven to Palm Springs for the weekend, and then driven home. CES hotel room prices, alas, made this impossible.
Then I remembered Primm. And then I started looking at hotel room prices there: $45 a night at the Primm Valley Resort and Casino! $38 a night at Buffalo Bill's! $32 a night at Whiskey Pete's! A tank of gas, even for my tiny compact car, is $50. No office currently requires my presence, I have a ton of writing and reading to catch up on, my roommate's cool with feeding the cat, and Buffalo Bill's has a roller coaster!
"What could possibly go wrong?" I asked myself. My friends began to exchange nervous looks.

But no one stopped me. And thus, Wednesday (after a dazed two hours wandering the CES convention hall), I drove from the city of sin to, well, a place of slightly less expensive sin.
I was anticipating Hunter S. Thompson levels of debauchery — a mad swirl of writing and drinking and whatever else kind of trouble I could get into on a budget of $60 (plus the price of the room and Internet access).
Hunter S. Thompson did a lot of cocaine, though, and my budget didn't have room for cocaine.
As nice as it would have been to see "Whiskey Pete" appear on my credit card statement, I decided to aim for the middle and book two nights at Buffalo Bill's Resort and Casino, largely because the Hotels.com reviews were slightly better. I knew I'd made the right decision the moment I walked in and saw this display right behind the registration desk: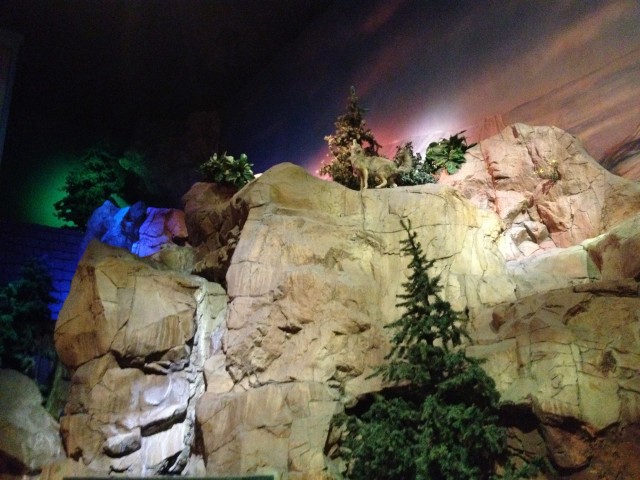 Magnificent. This dedication to the hotel's theme was everywhere, from the casino decor: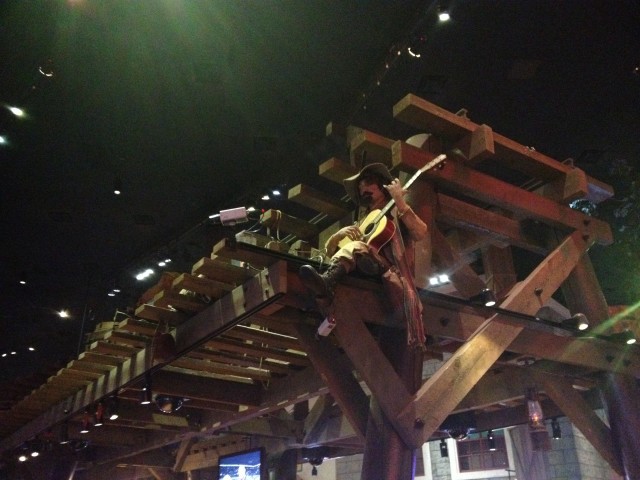 To the bathroom wallpaper: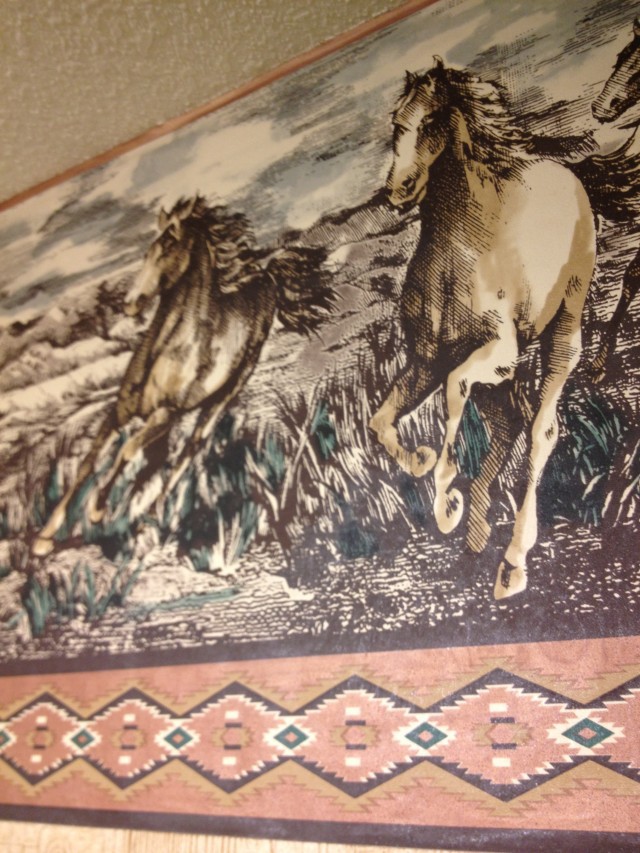 To the pool (tragically emptied for the winter months, but indeed buffalo-shaped):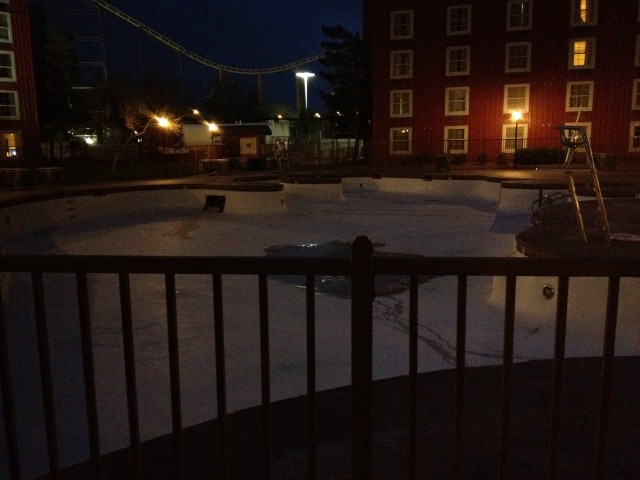 The room wasn't bad. The desk was at a nice height, the armchair in the corner comfortable. And it's of course a great deal of fun to have a king-sized bed all to yourself and your laptop.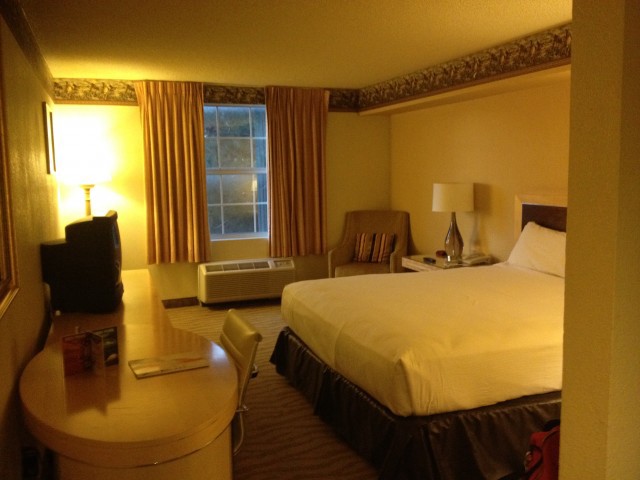 I could see the roller coaster track right out my window, but when I checked the website, I discovered that it was closed until Friday. In fact, most things were closed until Friday, including about half the restaurants in the casino food court and the buffet. In the case of the roller coaster, that was probably a good thing, because did I mention it was right outside my window?
After unpacking, I went downstairs and got some fish tacos from La Salsa. There was a really good happy hour deal at the attached bar, but I was not eligible for it:
So instead I played some video poker.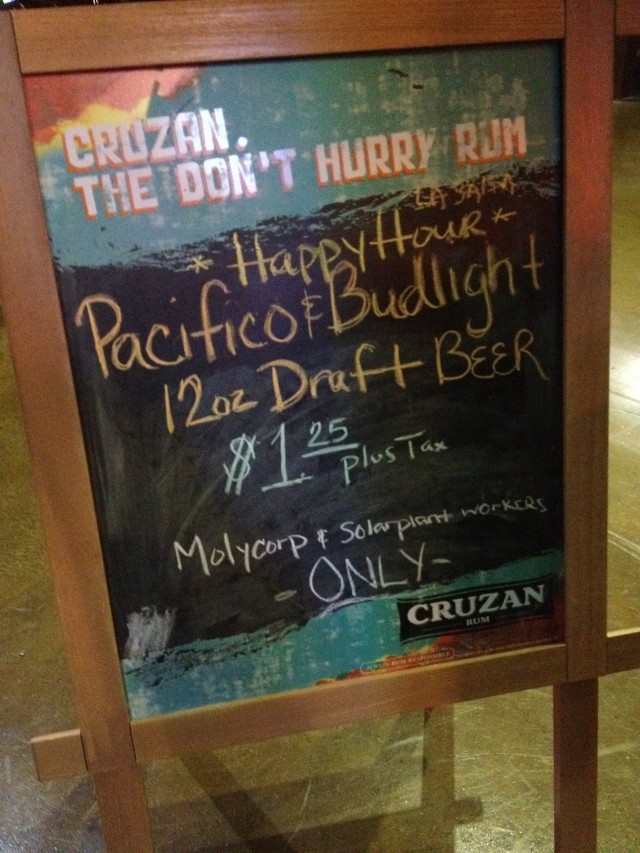 [A note about video poker: I am not good at it, but I am able to play slowly enough to get two or three drinks out of the $10 I put in. I consider this to be a pretty good deal — free drinks and the soothing joy of poking at a screen like a mindless zombie.]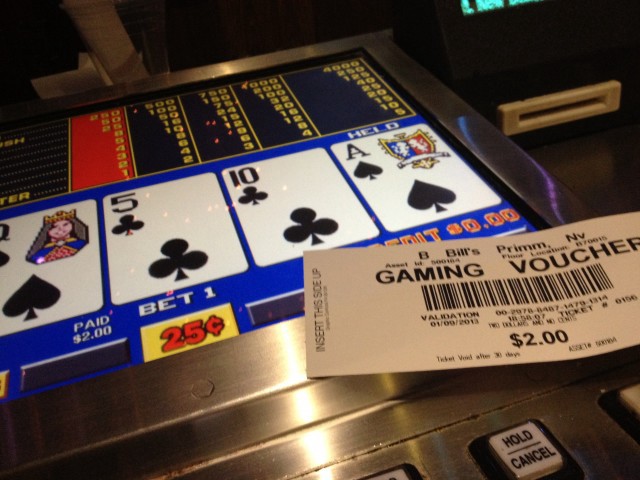 Around 7:30, I headed back up to the room, and managed to make it about half a hour before I caved and bought the hotel-supplied Internet — $9.99 for 24 hours. I then turned on the TV for that terrible Fox celebrity diving show, which supplied something resembling human companionship and decent enough background noise while I caught up on email and Internet stuff from the past few days.
After waking up unexpectedly at 4 a.m. and watching shows on Hulu, I went outside for a run. If Buffalo Bill's has a gym, I was not able to find it — making a lap of all three hotels in about 20 minutes. This is not because I am particularly fast, but because they are very close together. Whereas everything seems bigger in Vegas, everything seems smaller in Primm.
Breakfast was had at the Buffalo Bill's Denny's, where my request for three eggs and a side of toast became a Grand Slam Breakfast with hash browns and four eggs, because eggs are only available at Denny's in even numbers. I was hungry enough to eat it all, though, and spent the next two hours writing, Internet-ing, and drinking coffee. While the Denny's was doing a pretty brisk lunch business, the waitresses were still generous with their coffee refills, so I left a 50 percent tip on the table when my laptop finally ran out of battery.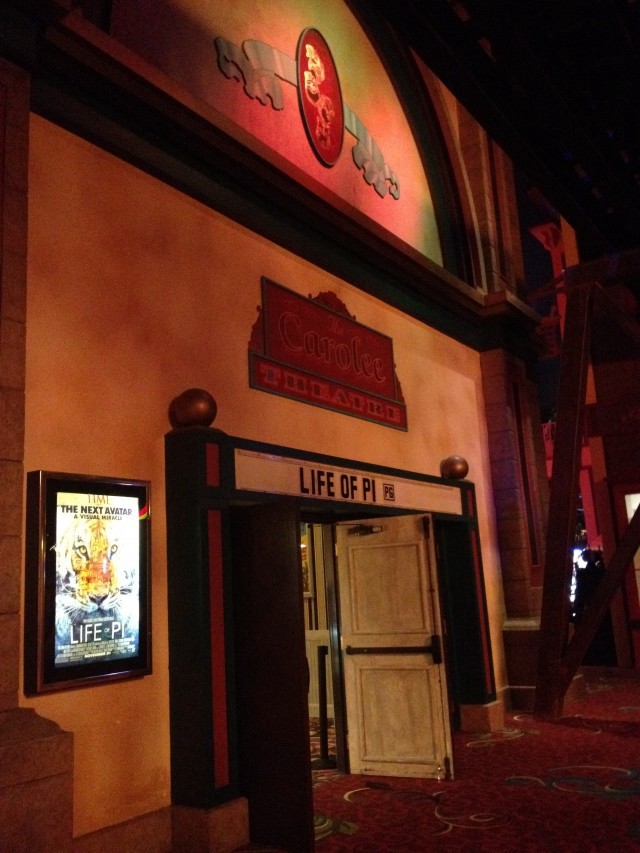 The one movie theater in Primm — the Carolee Theatre, just a few steps away on the casino floor — was showing Life of Pi, which I hadn't yet seen. But tickets were $9 and paying Los Angeles matinee prices when I'm not in Los Angeles just seemed wrong. So instead, I walked over to the Primm Valley Resort and Casino, to explore that upscale facility and attached outlet mall.
The hotel and casino did seem a fair shade nicer than Buffalo Bill's, though very much lacking the je ne sais quoi known as taxidermied prospectors. So I moved onto the outlet mall, largely because it was 40 degrees outside and I'd forgotten my coat in Los Angeles.
Dinner was a Subway sandwich I bought from the Primm gas station on my walk back to the hotel, only discovering after I'd customized my Veggie Delite that Subway sandwich prices are apparently doubled at gas stations. I was kind of horrified to pay $9 for my salad on bread, but they'd already loaded it up with olives and I felt bad.
My evening's entertainment was television, 1997-style: I stayed in the room watching NBC sitcoms on a standard-def television. During the commercials, I muted the TV and did some transcription work (a journalist friend's 100-minute interview with a director); once prime-time was over, I went down to the casino for a little more video poker.
Buffalo Bill's on a Thursday night was fairly busy. In fact, the casino always seemed at least a little bit occupied. Still, I pretty much kept to myself, having no trouble finding an empty portion of bar to curl up in.
It's funny, buried underneath my excitement for the Primm Plan was a bit of fear that this was set-up for my eventual hermit-tude. I know plenty of people who travel on their own and enjoy it a great deal, but the end of my job meant the end of coming into an office daily and being surrounded by wonderful co-workers. I was more on my own than I'd been in years. Was the Primm Plan a subconscious attempt to prepare myself for loneliness?
It turned out that the answer was nope, thanks to the Internet. My posting to social networks doubled over the course of these two days. It was in part because at least one friend confessed concern over the Primm Plan and wanted me to check in, but I didn't mind doing it. While I wasn't exactly lonely, I did feel the itch to share what was happening to me, and to hear what people in my life thought about it. This is what the Digital Age allows us to do.
Ten years ago, the Primm Plan might have been complete madness, the sign of deep psychological problems. But the world is an awful lot smaller now.
When I went running the second morning, I noticed that according to Nike+, I was running significantly slower than usual; this was confusing, until I looked up Primm's elevation on Wikipedia and discovered that it is nearly half a mile above sea level, otherwise known as nearly half a mile higher than my usual running paths.
I learned a number of other interesting facts while on the Primm Wikipedia page, including the tale of Whiskey Pete, for whom the casino is named, and the fact that Primm doesn't even count as a town: It's referred to as a "community," the bulk of its residents supporting the tourist community. It's like one of those tiny Polynesian islands destroyed so easily by tsunamis, except that instead of tsunamis, what Primm fears is the long-debated bullet train between Vegas and Los Angeles. With fewer drivers passing by on the I-15, Primm could easily be wiped out.
Before I left town that afternoon, I noticed that Buffalo Bill's roller coaster, which is supposed to operate from noon to 5 p.m., has not yet started up. I asked some of the housekeeping staff if it's broken, and they shrug, unsure.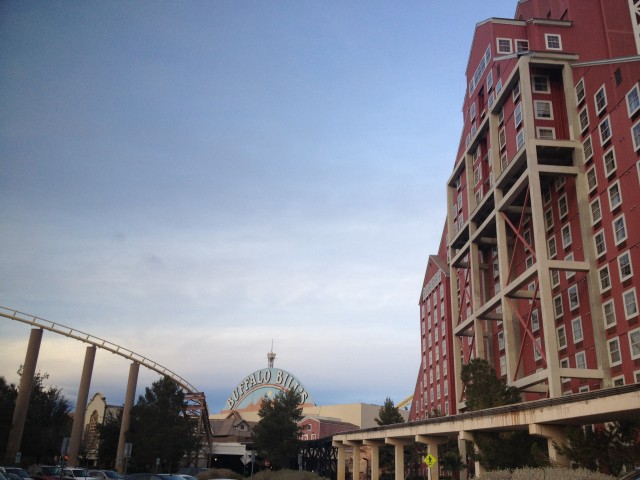 The direct route between Primm and Palm Springs took me down tiny state highways that varied in view: snow-capped mountain ranges dwarfing nearly-desolate ghost towns. The roads rose up and down almost hypnotically as I wound through the foothills; and then I arrived at our rented vacation house, and spent two days surrounded by friends. We ate and drank and read and watched football and played games, and it was wonderful to be surrounded by people I've known for years — people I love dearly.
The best part of running away from home is coming back to it.
There's no way for me to be certain that the Primm Plan actually saved me any money, but it was the sort of low-key, low-cost adventure I needed during this period of flux. It was full of things I loved: Writing, running, awesome Western-themed decor. It made me appreciate what I have: My bed in Los Angeles, which has sheets that do not give me a rash. And it reminded me of two very important facts:
1) I am rich with friends.
2) And very bad at video poker.
Liz Shannon Miller writes pretty much everything except poetry. She previously worked on G4's "Attack of the Show," and currently tells her friend Frank about stuff at Liz Tells Frank What Happened In…