Becoming Number Two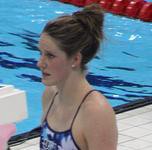 Say you're really good at your job — the best manager at your small company, really, because everyone tells you so. And then one day there's an announcement that your small company is adding another manager to the team, and that manager is going to be Warren Buffett or Sheryl Sandberg or Bill Gates or Hilary Clinton. Amazing, right? Or are you saddened that your star is dimmed because this other amazing person is at your company now and is receiving all the attention?
"It's really frustrating when Missy kind of shines above everything," said Bonnie Brandon, who before graduating last spring was Colorado's greatest-ever female high-school swimmer next to Franklin. "She's No. 1 in the world, and No. 1 in the state, and then I'm No. 2 in the state.…It's just hard being in close proximity," said Brandon, now a University of Arizona swimming star.
This is a story about Olympic gold medal swimming champion Missy Franklin deciding to return to her high school to swim as an amateur and forgoing an estimated $3 million a year in endorsement deals. It's wonderful.
Photo: nrcphotos