WWYD: The Wrong Credit Card Number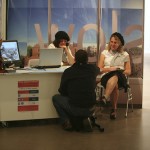 You guys seemed to really enjoy the idea of a WWYD series yesterday, and I received a few situations from readers in my inbox last night. Here's one from J. — it's a good one!

In 2003 my (now) wife and I took our first overseas trip. We were going to go to London, where her cousin lives, and in the middle of the stay we'd go to Barcelona. At her cousin's suggestion we booked the Barcelona trip via a British travel agency that specializes in combined airfare/hotel package deals. I made the arrangements by phone, which included giving them my credit card information, then got an email confirming everything was set. Three nights in a hotel plus round-trip airfare — I don't remember what the cost was but it was on the order of $400-$500.
Right before we left for Britain I realized that I hadn't seen any of the charges show up on my credit card. When we got there, my wife's cousin had the plane tickets and other paperwork (they had requested a local address), which had our names on them, but the receipt had somebody else's credit card number. (Like, it wasn't one or two digits off, it was wildly different.)
So: What would you do? We decided not to say anything. Our thought was that, if a charge that large showed up on somebody else's card, OBVIOUSLY they would call and dispute it. Once that got back to the travel agency, they would figure out what went wrong and contact us (which they had multiple methods of doing). But I felt guilty about it. Then while we were in Barcelona we BOTH got our pockets picked within 12 hours of each other and lost more than 200 euros in cash, which I always suspected was karmic payback. (But, on the plus side, we never heard anything from the travel agency, ever.) — J.

Okay, it's Mike, again. I would have called the agency and said something because: Catholic guilt. WWYD?
Email me your WWYD experiences to me with "WWYD" in the subject line.
Photo: Platform London