My Stuff Was Myself, But Then It Was Gone
by Sarah Todd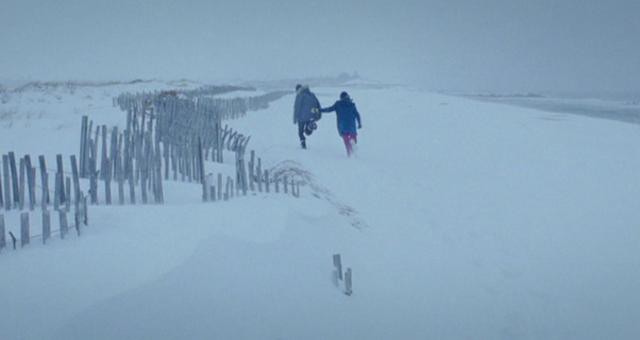 When people think about the things they'd save in a fire, they usually include at least a few sentimental objects: photo albums, love letters, a tattered stuffed tiger they've had since they were born. I'd definitely try to rescue the memory book my grandmother gave me when I was fourteen.
In her slim-looped cursive, she writes about growing up on a farm in Tennessee and living through the Great Depression. I'm pretty sure the book contains all the secrets to life: how to be open-hearted, how to be gutsy, how to make these perfect flaky rolls that wreck every dinner party because nobody can help filling up on them before the main course.
I love that book, and if I lost it I'd be incredibly sad. But I'd get over it. I know that because of the flood.
In August 2007, I was between apartments in New York City. My friend Alyssa and I were getting a place together, but her old lease expired a month after mine. I stored my things in the basement of my old apartment in Windsor Terrace, just around the block from a fireman's bar that served Coors Light in huge Styrofoam cups.
Meanwhile, my very kind friend Ari said that I could stay at her apartment in Park Slope for the month. At the time Ari worked for a fancy bakery that specialized in custom-designed cakes. She kept a portfolio of her favorite projects: a personalized Monopoly board for some (probably embarrassed) thirteen-year-old's bar mitzvah, a cake in the shape of a sneaker for a fitness-obsessed executive. Since Ari had to work early in the morning she zonked out before 10 pm every night, which meant that even though we were both sleeping in her bed, we didn't actually see each other that often.
Did this make me a good houseguest or a horrible one? I couldn't tell. I wasn't seeing much of most people that month, regardless. I was applying to new jobs and to graduate school; in the meantime I was holding down a part-time gig at a nonprofit and an unpaid internship at an independent journal. In the evenings Alyssa and I would dive into the Hunger Games arena that is renting in NYC. The search was pretty discouraging, but I didn't mind. I was just grateful that we were friends again. We'd been BFFs through college, a dynamic duo whether we were at wine-soaked parties or pulling all-nighters in the computer lab. But our friendship hit a rocky patch once we got to the city. In a fairly half-baked scheme, we'd decided to room together about five minutes after making up. The gamble seemed to be working. We pounded the streets, gossiping about prospective landlords and inventing imitations of animals to pass the time. "Hawk?" I'd say, and she'd fan her arms and jut her head out, steely-gazed.
In the midst of all that hustle, the voicemails on my phone started building up. The higher the count got, the more horrible it seemed it would be to actually listen to them. So when my former landlord called to warn me that an impending storm was probably going to flood the basement, and that I should move my boxes to a higher level, I didn't get his message until it was too late.
In fact, I didn't hear it until after I entered the basement on moving day and was greeted with a blast of mildew. The boxes were soggy at the bottom; the concrete floors were still damp. I wanted to cry right then, but I waited until I was alone in my new 15×6 foot room on Carroll Street. I unpacked the boxes and started to assess the damage.
Most of my pictures were destroyed. This was before I'd transitioned into the world of digital cameras, and these were the only copies I had. The flood had wiped clean photos of my childhood dog, the leafy Michigan summer camp where I'd been a counselor, the only photograph I still had of me with my high school boyfriend, college road trips to San Francisco and Joshua Tree.
My books were swollen with water, mold collecting on their edges. Later I'd try to dry them out on the fire escape, but most were too damaged (and smelly) to keep. A lot of the books I lost were from my college poetry professor — stacks of Anna Akhmatova and Wislawa Szymborska and W.S. Merwin that he'd earmarked especially for me. Once, freshman year, while passing each other on the street, he'd reached into his back pocket and passed me The Lightning Should Have Fallen on Ghalib without even breaking his stride. The books he'd given me were proof that someone out there thought I had potential, and I clung to them in the world of post-collegiate entry-level jobs, where opportunities for creativity were few and "willingness to perform monotonous tasks" was often a prerequisite.
There were plenty more sentimental casualties: My mom's vintage cardigan, which she'd somehow managed to preserve perfectly for thirty years before her reckless kid came along and refused to check her voicemail. The delicate pencil drawings an artist friend I was certain would be famous one day had sketched while we lay on the beach.
I'd always been a little superstitious about objects, believing that anything I associated with the people I loved was a kind of benevolent horcrux — a piece of them stayed inside. As a kid I kept a scrap of yellow-diamond wallpaper from my family's old dining room tucked in my nightstand drawer for years. But now I had two options. Either I could follow the lead of a depressive cartoon brontosaurus and walk around saying All My Friends Are Dead, or I could find a way to let this go.
Sorting through all my ruined things, I made up my mind to get punk rock about this ordinary damage. What did it matter if half the things I owned were gone forever? Plenty of people had lost much more. I could tough it out. I'd chant "Creation, destruction" right along with Marky Mark and Isabelle Huppert. I'd channel Frank O'Hara in this emergency, put on my dirtiest of suntans and spit on the lock. It was one of the first times I rode that defiant high that comes when the world is banging you around and you decide that you don't care. It's a pretty badass feeling, if you can persuade yourself to believe it.
That night, after I'd bagged up everything I couldn't keep, Alyssa and I ordered pizza from Joe's. Ari brought over a six-pack of beer and we all went out on the stoop of our new apartment to eat dinner. We talked about the movies we wanted to see at the Cobble Hill theater, with its anomalously cheap-for-New-York ticket prices; the wine and cheese picnics we'd have on the unfinished roof; the devoted exercising habits of our new roommate Caleb. I put the waterlogged photos and books and clothes into a drawer with that scrap of wallpaper. Every time it slid open, I slammed it right back shut.
It was the first day of September, and there was a snapping-turtle chill to the air that meant summer was really over. My personal statement for graduate school was almost ready. I had a new, full-time job and big plans. My friends were my bedrock, and sitting with them on the stairs I felt at home. I didn't know that by that time next year, I'd have lost my great-aunt's cameo ring, half the music I owned, and any focus on my writing that I'd managed to build up since graduating college. I'd be starting grad school in the rainy Northwest and wondering why I'd ever left New York, a city with a reputation for hard-nosed cynicism but where the people I knew were lit up with easy generosity and the kind of quiet ambition that leans forward, steadfast as a hawk. It's no great tragedy, but it still hurts worse than anything about the flood: That time next year, I was gone.
Sarah Todd is in her tree talking to the Dixie Chicks and they're making her feel better.
---
Support The Billfold
The Billfold continues to exist thanks to support from our readers. Help us continue to do our work by making a monthly pledge on Patreon or a one-time-only contribution through PayPal.