A Contest for the Young and Financially Savvy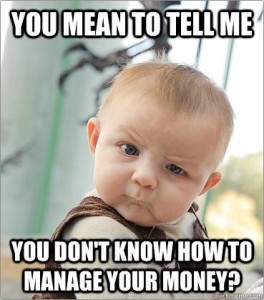 We've written about NerdWallet a few times on this site (in this post about comparing credit cards, in this one about money planning tools for gay couples, and this one looking at the tax rates of the biggest companies in the U.S.), and now the site is looking for five young people between the ages of 18–25 to participate in an online contest called, "So You Think You Can Finance." The winner will get $1,000 and free advice from a certified financial planner in their area.
Unfortunately, I am too old to apply, but I know a lot of young, financially savvy people read The Billfold, and would make great contestants. I spoke with some of the folks at NerdWallet yesterday afternoon to see what the contest was about, and they answered some questions I had. A rundown:
• The contest takes place over four weeks, with weekly "challenges," where contestants answer questions in a blog post about how they'd approach certain financial circumstances, like budgeting, paying off debt, or planning for retirement. The answers will be posted online and judged by a panel, and by a voting public.
• Contestants who are worried about privacy are allowed to use their first name and last initial.
• There are no eliminations — the voting takes place at the end of the four-week period.
• If you win, you'll get to meet with the financial planner in-person, and you'll be able to follow up with them a few months later so you can ask more questions, or discuss progress on things you wanted to work on.
You can learn more about the contest here. The deadline is Aug. 31.
I want to add that NerdWallet isn't paying us to promote this contest. I think that getting more young people to talk about money is a great thing, and if there's a prize attached to it, hey, even better.
---
Support The Billfold
The Billfold continues to exist thanks to support from our readers. Help us continue to do our work by making a monthly pledge on Patreon or a one-time-only contribution through PayPal.