In College, Off-Track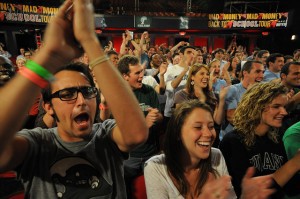 Ever since childhood, Rikki Eriven has felt certain of the career that would fit her best: working with animals. Specifically, large animals. The soft-spoken freshman smiles as she recalls the episode of Animal Planet that kindled this interest, the one about zoo specialists who treat rhinos, hippos, and giraffes. So when Ms. Eriven arrived at Arizona State last fall, she put her plan in motion by picking biological sciences as her major.
But things didn't go according to plan. She felt overwhelmed. She dropped a class. She did poorly in biology (after experiencing problems, she says, with the clicker device used to answer multiple-choice questions in class). Ms. Eriven began seeing ominous alerts in her e-mail inbox and online student portal. "Off-track," they warned. "It told me that I had to seek eAdvising," she says. "And I was, like, eAdvising?"
About 31 percent of students at public universities graduate from college within four years. A majority — 56 percent — graduate in six years, mostly because a lot of students go to college thinking they're going to major in one thing, and then decide to major in something completely different. Arizona State has a system in place that alerts students when they are getting off-track by not taking the right classes to fulfill their major's requirements, or by failing to do well in a course. If a student goes off-track two semesters in a row, they may be asked to change their major.
I'll admit that I was on track to be a lawyer for the first three years of college, and then I took a single journalism class during my senior year, which basically changed my life. And thank god for that!
---
Support The Billfold on Patreon
The Billfold continues to exist thanks to support from our readers. Help us continue to do our work by supporting us on Patreon.