Things I Learned by Living on a Small Amount of Money In Ukraine
by Katie Peoples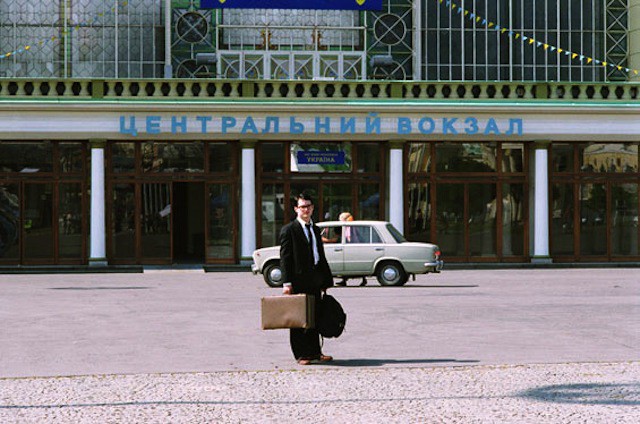 I learned a lot as a Peace Corps volunteer in Ukraine, but most practically: I learned how to live on a budget. As a volunteer, you're given a tiny stipend (though large in the local setting) to live on. Mine was 2,300 hyrvna ($280) a month, and I lived on that for two years. Everything I did had to be paid for in cash, from my rent, to buying train tickets, to the tab at the shop near my apartment. Credit is a relatively new concept to the former Soviet Union, so no one took credit cards except for fancy hotels and restaurants in the big cities. Even on a small budget, I lived a happy life, and it really changed the way I relate to money. Here were my monthly expenses.
Rent
I spent 400 UAH ($50) a month on a Soviet apartment that had running water, heat, a water heater, an indoor flushing toilet, three big windows (but only two little panes that opened), and no air conditioning. In the winter I shelled out an extra 50 UAH ($6) a month to keep the heat on. In the summer I paid 100 UAH ($13) for a standing fan and sat around in my underwear. Also sometimes there wasn't running water after all. Surprise!
Thing I learned: You can tolerate more than you think when it comes to an apartment. Also, running water is the greatest thing known to man.
Food
I spent between 100–200 UAH ($13-$25) a week to feed myself. I did this by keeping an almost vegan diet and cooking for myself every night.
Thing I learned: Cooking! Cooking. Seriously.
Water
This was a legit budget item. I spent my entire moving-in stipend of 250 UAH ($30) on an imitation Brita filter and 50 UAH ($6) each on filter refills every few months. I'd also spend 5–10 UAH ($1) a week on 5–10 liters of drinking water from the water truck that rolled through town. Yes, I had free running water, a filter, and access to a well, but I also had enough stomach problems as it was.
Thing I learned: If it's going in your body it should be the best you can afford.
Clothing
The stands in my village's bazaar were, um, wanting. So I saved my shopping splurges for when I went to a real mall in a city. This meant stretching what I already had in my wardrobe and sometimes, especially in the winter, I wore the same thing every day. If I did buy something, I'd try to buy the best I could afford, which was somewhere between 100–400 UAH ($13–50).
Thing I learned: Don't freak out about having a different outfit every day. No one is paying attention. Also: Take care of your clothes.
Entertainment:
Local eating and drinking were limited, and going to the all-ages disco on Friday night to get down with my ninth graders was a little weird, so my buddy and I would get together and cook at my house and catch up on American shows on our laptops. Birthday parties were potlucks and involved lots of cheap wine. Ditto for picnics "in the nature." In all cases, I had a great time with my friends.
Thing I learned: It's not the bar you're going to that makes the times awesome, it's the people you're with.
Travel
I managed to travel on a pretty small budget by saving all my money during the winter months, living like a hermit and squirreling away any cash windfalls I got for birthdays. I took advantage of people willing to host me around Ukraine, and when that wasn't available, I stayed in hostels and used their kitchens to keep myself fed. I spent $300 meeting my brother in Venice and then $700 visiting him in Paris where he lived. I spent $800 on a 10-day trip through the Baltics with another volunteer. Sure, I was bored being stuck at home, but, oh man, it made getting gelato on the Grand Canal on Halloween, strolling through Riga in August and seeing the Louvre in May all the sweeter.
Thing I learned: A little suffering ("suffering") now pays off enormously later.
Internet
This was probably my biggest monthly splurge. My school principal went bug-eyed when I said I wanted Internet in my apartment. It cost about 100 UAH ($13) for installation and 110 UAH ($14) a month or 25% of my entire rent/utilities. That's basically like spending $250 a month for Internet in your $1,000 apartment. Totally worth it though to maintain my sanity.
Thing I learned: It's okay to splash out on things you really care about. Plus: My parents learned how to Skype so they could talk to me; that was totally worth not being able to afford meat or anything else, really.
Katie Peoples lives in San Francisco.