Always Ask For More Money
I was pretty excited when I was accepted into my graduate program at Columbia University. I had only applied to one program, so it was going to be all or nothing. Columbia had overnighted the acceptance letter to me, so I pretty much knew I had gotten in before I opened the envelope (who would pay an overnight fee to reject someone?). But then I received a letter letting me know how much the university was going to give me: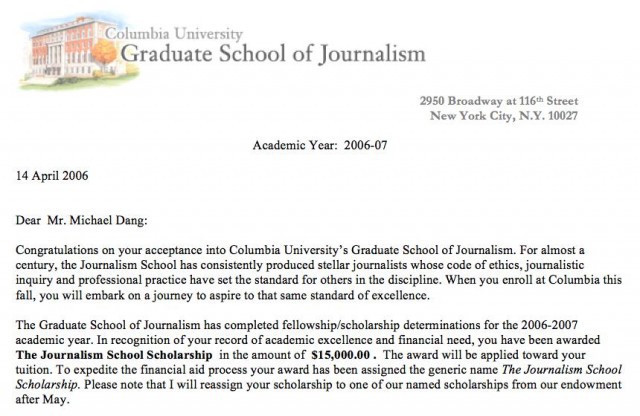 I wanted more. I needed more.
Tuition and fees were going to be about $44,000, and I also needed money for living expenses. One of the things you have to do when you're applying to Columbia's journalism program is take a writing test proctored by an alumnus of the graduate school. After I was accepted, I emailed my proctor asking her for tips, and she gave me a lot of great advice about choosing a place to live in New York, which classes were worth taking, and ended her email with the best tip of all: "By the way, don't hesitate to go straight to [the dean of admissions and financial aid] and ask for more money. I badgered him enough to get a few more grants to cover expenses."
I was young, and had little experience with negotiating money, so if she hadn't tacked on that last bit of crucial advice at the end of the email, I would have never thought of simply asking for more money. It's one of those things you need to learn as early in your life as possible: If you don't ask for something, you don't get it.
So, I asked for it. And when I was initially turned down, I asked for it again. My proctor ended up being right: If you plead your case long enough, and do it as politely as possible, there's a good chance you'll end up with more money. While I was in school, I received an additional $10,000.
I took this experience with me after I graduated and got a few job offers. Can't get your employer to budge on the salary? Maybe you can get an extra vacation day. Lather, rinse, repeat: If you don't ask for it, you don't get it.
---
Support The Billfold
The Billfold continues to exist thanks to support from our readers. Help us continue to do our work by making a monthly pledge on Patreon or a one-time-only contribution through PayPal.