Mount Everest in Manhattan: My Dizzying Attempt to Climb Real Estate's Highest Summit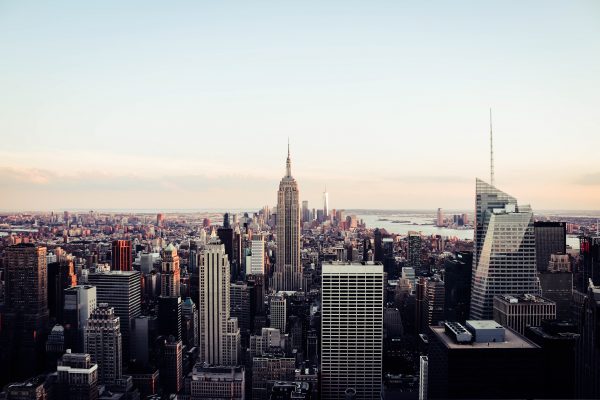 Do you run marathons? Have you tried an Ironman? Have you ever challenged yourself to do a difficult, unfathomable thing and then watched near helplessly as that thing took on a strange life of its own? Like, have you ever tried to climb Mount Everest?
I have. My personal Mount Everest was buying a two-bedroom apartment in Manhattan. I scaled upwards with the New York Times Real Estate section as my harness, a city map as my ropes, and some shady mortgage brokers as my crampons.
My base camp lay about a mile below sea level, because I was a single woman from rural Alabama, with no connections, no inside information, no trust fund, no rich relatives about to croak. And I was weighed down by law school loans.
But my financially literate father had gently suggested, "Buy an apartment now if you're ever going to do it," and I knew he was right. Prices were escaping me, rising always out of my grasp. I needed to overtake them.
To pay off my loans, I had to move way out in Queens. And I mean way out. This made my commute to midtown sometimes an hour long, a serious time investment when you're already working twelve-hour days. I lived so far out that I was guaranteed a seat on the subway every morning, and also guaranteed to have my feet stepped on and a butt in my face. I had gotten a roommate (a lucky woman, as I was never home) and we had rented the cheapest place we could find.
In the cheapest place we could find, the carpet rolled like the ocean. I could walk across it and trip five times, remarkable also because there was virtually no space to walk at all. Years of grease from the tiny kitchen migrated outward, coating every surface of my life. My laptop grew sticky, my timesheets, even my hair.  
But I paid off my loans in Queens, and began to nurture the seed of a down payment. I also lost all my friends, who had been in the habit of getting together after work sometimes, which I could not do because I was busy traveling to and from Queens and also working all the time. And when I wasn't working, I was climbing my personal Mount Everest: Trying to buy a Manhattan apartment.
Not merely Mount Rainer or even Mount Kilimanjaro. I had decided to go big. Somewhere along the way I'd read a piece of life advice that stuck with me: "Buy a place that suits what you want your life to be." And I wanted to be a New Yorker forever. I love New York, not just for its famous rhythm and stimulation, but for its sometimes-startling generosity and sense of community, the quick and uncommon bonding over shared stressors. Not everyone can be from Alabama, but anyone, from anywhere, can be a New Yorker. So I wanted more than just a studio to hold my stuff for a while. I wanted a forever home — a conveniently located, expansive two- bedroom that I could live in until the day I died.
I usually worked Saturdays. So weekends, for me, existed only on Sunday afternoon between 11:00 a.m., after trying to overtake a week's worth of sleep deprivation, and 4:00 p.m., when I'd head to the office for an hour or two. These five hours became sacred apartment-hunting time.
I'd map out the apartments I wanted to see and work a neighborhood. I learned about Frank Lloyd Wright's concept of "compress, release" — in which a narrow entryway gives way to a wide living space — by turning sideways to get into an apartment in the village. I saw showers in kitchens. I saw beds suspended from ceilings. I spent years learning every neighborhood in Manhattan.
Eventually I found something. I made an offer on a sweet place in the 60s, on the East Side. It had a fireplace, and a famous playwright lived in the building, and it needed a ton of work. My broker submitted my generous offer.
At last, the summit. My new home: two small bedrooms and an eat-in kitchen with a view. In my mind I snuggled under a fuzzy blanket by that fireplace. I sipped coffee and read the paper at a café table in the kitchen. Newfound friends laughed in my living room, seated on a tasteful sofa that would materialize, somehow, from somewhere.
Then the co-op board lawyer called my broker back and told her I needed to show that, in my bank account, I had an amount twice the value of the apartment. "Just get your parents to transfer it in for a day," my broker told me. "Everyone does it."
Everyone does it? Everyone? I explained my situation to the broker. Then she explained my situation back to me. "You will never," she said, "buy an apartment in Manhattan." Then she fired me.
I stood spluttering. Defeated, slack-jawed, protesting, and broker-less. I tried again, shortly after. Different apartment, different broker, same fantasies, same results. And was fired again.
Along the way I learned so much. I learned about mortgage brokers, about interest rates, about condominiums versus cooperatives, about the details of maintenance costs. I learned to navigate the city without GPS. And I learned about vanity jobs.
This may not surprise you, but it surprised me: A number of young people who live in fun expensive cities, such as New York, have their expenses (and their down payments) supplemented by someone else. Some of these people are professionals who are just starting out. Others have the most ridiculous jobs you can think of. Their job titles may not sound ridiculous, and the work they do may not be intrinsically ridiculous, but their salaries are ridiculous, in that they are low enough to barely keep a person alive anywhere, much less New York. Some people have salaries so low that they may as well not do the job. Some people have salaries so low they can honestly complain of their poverty while simultaneously living like Kardashians. It's a bit of genius to exist in both states at the same time.
And my bit of genius was that, in a way, I was doing exactly the same thing. I grew up among talented friends who aced the ACTs but joined the military, people who could have held their own among my law school peers but who would never get the chance. I knew people who got into medical school, and into the most prestigious universities in the country, and couldn't go. The financial and social pressures can be close to insurmountable. I was like one of those wee turtles scurrying as fast as I could from the nest to the ocean — just after a flock of herons had come in, followed by a caravan of dune buggies. I had reached the water and gotten the chance to create a life of my choosing, and I felt the weight of good fortune and weird happenstance that had allowed me to do it. Yet I could not stop complaining.
Although I tried to merely envy the vanity-job holders without resenting them, I confess that on occasion I failed, shaking my fist against the sky at the injustice of it all. I was outbid at every turn. Other apartment-hunters made stronger offers, buttressed by more assets in the bank, and no doubt many of them were also better people. And, thrifty and hard-working as I was, I knew I could never compete with them.
After five years of searching, being fired by two brokers, struggling in the thin air where fellow climbers survived on supplementary oxygen, I began to question my ascent. Maybe I should rent. Maybe I should forget living by my wits, play up my other assets, try to marry rich. Dark days indeed.
Then one dreary, litigation-filled morning I picked up, with my bagel, a copy of the Village Voice (RIP).  Eating at my desk, I saw a tiny advertisement that had to be a cruel joke: "UES 1100 sf; 2 br 1 ba; eik, w&d."
That's an eleven hundred square foot Upper East Side two-bedroom, with an "eat-in kitchen" and a "washer and dryer." A washer and a dryer. My fantasy lay three blocks from Central Park.
I cleared my morning schedule, made a call to the owner, and raced in the rain to the apartment. I made an offer almost as I walked in the door. I was soaking wet, dripping joy.
The owner was also a lawyer, a person who didn't want to deal with a broker. No commission. It was the smoothest real-estate transaction ever. Whenever either of us had a question, we picked up the phone and spoke with one another about it.
Only after we'd gone to contract did I inspect my apartment more closely. Within its charmed eleven hundred square feet, I found a strange portent of things to come — if only I'd paid better attention.
"What is that fur-less creature on the floor?" I asked. It was too big to be a cat.
"That? It's a baby."
"Remarkable. Look at how it moves." I had seen maybe two babies in the previous five years. And that had been at a distance.
I didn't really think about the baby. I just bought the place and watched my fantasies come true like a film reel with an orchestral score. What joy! I didn't walk home from work anymore, I TWIRLED home as if I starred in an ad for breath mints. Past the flower shop, fish shop, wine store, bakery, I danced right up my stoop. Yes, I even had a stoop. It was a beautiful, perfect, photogenic stoop. I loved that stoop. Years later, one of my little boys would look at the engagement photo of me and my husband, a photo that was shot while we were sitting on that stoop, and ask me, "When did you live on Sesame Street?"
I never furnished the apartment. I didn't have time to shop for it. So it was pretty easy to clear out when, two years after closing on the place, I sold it. 
I had to sell my apartment for common reasons (love, childcare costs) interacting with reasons specific to me (internecine law firm wars, a once-in-a-lifetime work opportunity). Maybe I could have managed any subset of them, but they clustered together like lightning bolts all zapping the same spot at the same time.
Climbing up the mountain took years, but the trek down was quick as my realtor could list the place. It happened too fast. I'm still adjusting to the sale. Years later, I wake to nightmares that my current home has been sold out from under me.
I have visited the street, and my stoop, a few times since. The neighborhood's charm is dying away, extinguished by the same financial forces that eventually drove me out of the city. The firefighter's bar that stood across the street has been demo'd and a rich-person condo building has replaced it. The family-owned restaurants and flower and fish shops are gone, replaced by chains.
My Manhattan apartment is now worth three times the price I sold it for. But I don't dwell on such thoughts. Instead I google "Manhattan preschool." Reading the search results — the message boards with their discussions of five-figure tuition and strict application processes for toddlers — never fails to reaffirm my life choices.
Purchasing a Manhattan apartment was the life goal that ate my life; it was an irrational and ultimately arbitrary goal. But it built up my strength to take risk. It changed how I see the world — I see it now mostly in terms of real estate. For example, The Marvelous Mrs. Maisel is a beautifully crafted show about a fabulous Upper West Side apartment. Occasionally a funny woman speaks about the apartment.
No one spends more than an hour with me before learning that I used to have this great apartment in Manhattan. I also have a family now and a business and I've won my share of legal arguments. But when times get dark and I need to locate my foundational strength and confidence, this is the accomplishment I remind myself of.
We all know there's a world of competitors out there: People born to own real estate, to attend the most prestigious schools, who have the financial safety net that allows them to explore in risky creative fields, or take vacations that involve sailing. Every now and then there's a gap between the slats, wide enough for a humble girl from farm country to climb through. I'd like to think that one day, space will grow for all my fellow strivers, dreamers and would-be New Yorkers. But I fear that Everest has only gotten taller.
S.L. Brown is an observer of strange legal and real estate phenomena. She can be reached at SLBrownWorking@gmail.com.
Photo by Oliver Niblett on Unsplash.
---
Support The Billfold
The Billfold continues to exist thanks to support from our readers. Help us continue to do our work by making a monthly pledge on Patreon or a one-time-only contribution through PayPal.