Travel Turbulence
Minor-ish inconveniences in France.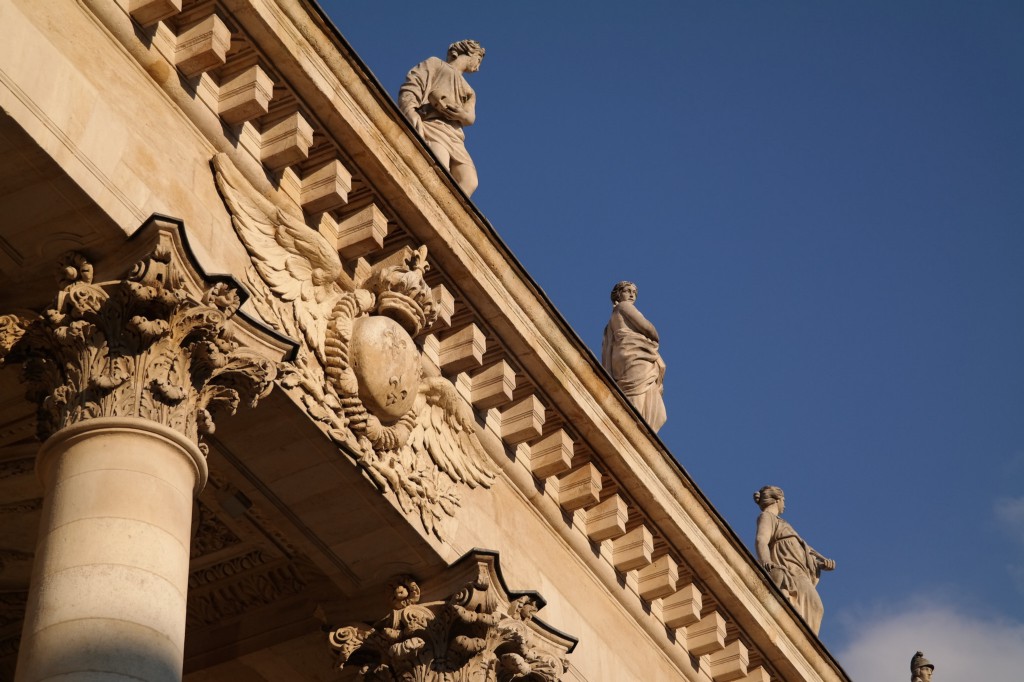 For the first part of this epic adventure, please click here.
Our European vacation was not entirely smooth. We got delayed for thirty-odd hours due to fog and airplane issues. We learned that much of France shuts down for several days around the holidays so finding an open restaurant or bar was more of a challenge than expected. We had to switch hotels at the last minute and struggled to stay in our daily budget while actually enjoying our vacation. Things kept going a little bit wrong. I kept telling myself that vacation is a luxury, so I shouldn't be upset. If you're eating a s'more, are you going to complain if your marshmallow is unevenly charred?
Solving the Holiday Time-Cost-Vacation Puzzle
But the missteps and delays had associated costs beyond inconvenience.
Instead of arriving in Bordeaux on December 29, we spent our first night in an office park hotel outside of Strasbourg. Air France Hop paid for our room and dinner at the hotel restaurant. Plates of chicken and potatoes came out of the kitchen two by two to each table of disgruntled passengers. Eric and I each opted for 9 centiliters of wine with the meal, but also purchased a bottle to sip while we called the airline to try to get on earlier flights to Bordeaux. The next day our connection in Marseilles was delayed even longer, where the free sandwiches did not come with free wine.
Had we been Skyteam Alliance top-tier status members, we would have been on a direct flight to Bordeaux the next morning.
Wine purchased because we stayed at an office park hotel: 21 euros
More wine to account for the four hour delay in the Marseilles airport, which does offer Foosball tables in the gate area: 9 euros
After Bordeaux, Eric and I spent two nights in Sarlat-la-Canéda. We chose our hotel based on price and proximity to the old city. After booking the room, we received an email from the owners saying that check-in was only available between 4:30 and 6:00 PM. With our train arriving at 4:45, I hoped that we would make it in time.
After some turns in the old city walls, we found our way with forty minutes to spare. As we rang the buzzer and started talking to the owners, I realized that I had worried about the wrong part of the hotel check-in process. Over a several minute conversation that I translated for Eric, the proprietors insisted that we had actually booked their cottage apartment (we definitely didn't), which required a 100 euro deposit (the total cost of the room for two nights) and also we would of course have to pay for the electricity that we used (roughly 15 euros depending on how warm we kept the place).
After some back and forth (Could they put the security deposit on our credit card, since we used that to book the rooms? No, because then they couldn't then hand us back the cash when we checked out! Were there regular rooms available in the hotel, the kind we thought we'd booked? Well yes, but we must have clicked on the cottage and it's much nicer so we'll love it!) we decided to cancel and find somewhere else to stay. I got yelled at in French for wasting their time while we grabbed our bags and walked out to the street.
I was calmer than I should have been as we walked by multiple hotels closed for the first week of January. At the edge of the old city we found the Hotel Le Renoir/Best Western that had a room available for the night. Best Westerns, though a staple of American highway rest stops, are surprisingly nice in France. We checked in with no problems and then moved to a slightly less expensive hotel for our second night. No one got yelled at. It was very pleasant.
The hotel check-in gets squirrely: 150 euros plus 15 euros for wine to calm my nerves over dinner and some more wine at our new hotel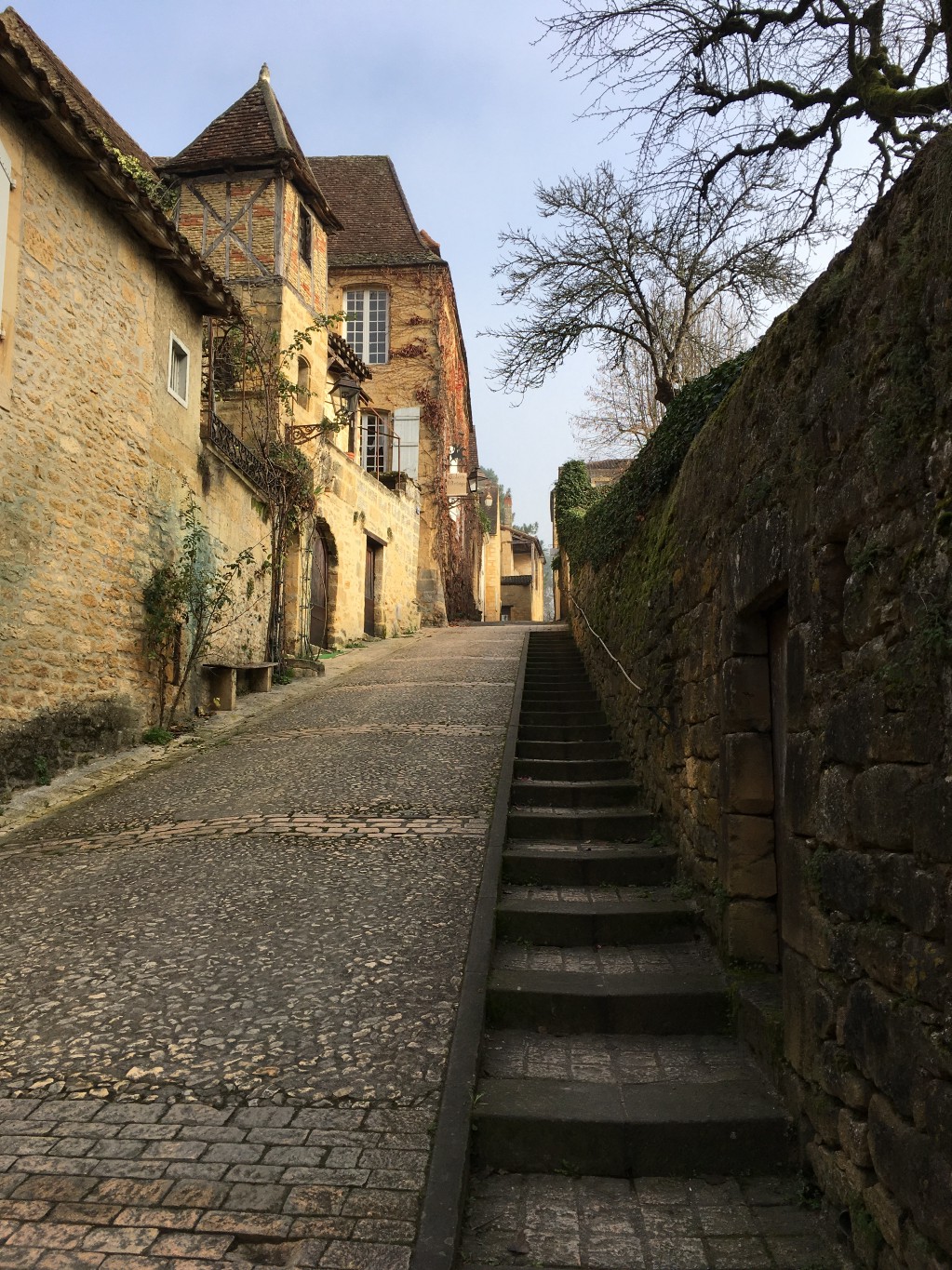 Because of the holiday season, very few restaurants were open in Sarlat. We were over our planned daily budget due to our hotel fiasco and tried to save money on our second night's dinner. We went to a Viet-Thai restaurant on a side street that advertised 8 euro entrees, cheaper than the 16 euro entrees or 26 euro prix fixe menus we found elsewhere.
Our waitress was friendly and we spoke a mix of French and English to order. I selected one of the specials, listed as "bahn mi crepes." She explained that it was appetizer-sized, so I said I'd take a minute to decide what I wanted to order instead. Eric ordered a pork bun for us to split as an appetizer and we settled in to sip our Oranginas and wait for our food.
Then two appetizers came out — the crepes (noodle rolls, as it turned out) that I didn't think I'd ordered and the pork bun the size of Eric's face. Eric's curry came with rice, which it turned out cost an extra 3 euros. It was all fine, but not great. By the time the bill arrived, we had spent as much if not more than we would have if we had gone to the delicious-smelling restaurant in our hotel.
Sarlat is famous for foie gras, but I didn't eat any while we were there because I was trying to be thrifty. I was frustrated to have spent too much on a sub-par non-French meal instead of enjoying the food I couldn't get at home. I had somehow scammed myself.
Not foie gras for dinner: 43 euros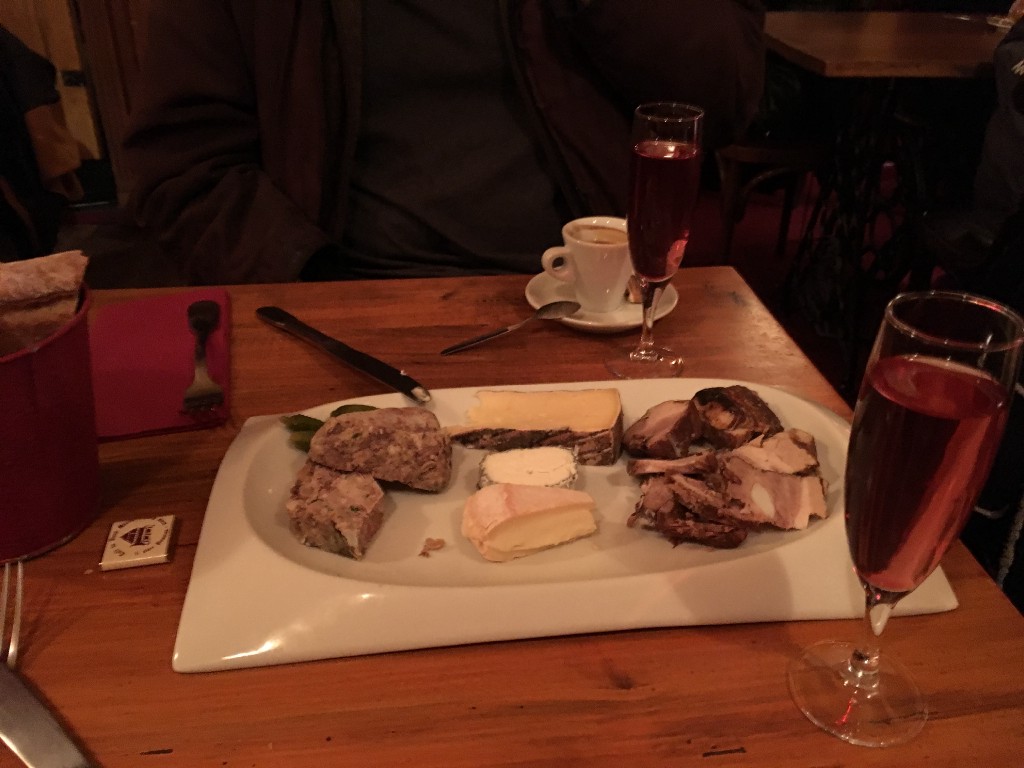 In the second week of our vacation, I started to relax. We had an easy check-in at our hotel in Tours and found dinner without walking very far. I accepted that the trip would be more expensive than I'd hoped and tried to enjoy each expense rather than calculate hourly totals.
It's not surprising that money makes things easier. If we paid for status or flew more frequently, we could have gotten to Bordeaux a lot earlier. I'm not sure that the hotel in Sarlat would have worked out if we'd been willing to risk losing a 100 euro deposit, but we probably would have stayed in a better place to begin with.
When Eric was on the phone with Expedia trying to get on an earlier itinerary, he repeated a few times, "I know we're on another flight, but there has to be something that gets in earlier. I only have so many vacation days." It settled on my shoulders for a while. We only had so much time. If the trip had been a disaster, I wouldn't have accrued enough time for another vacation for nine more months. I'm willing to be flexible and make the best of situations, especially on vacation, but it wore on me this time.
Trying to sort out our travel mistakes highlighted the limits of where I am currently. I knew the amount of vacation time I'd earn when I took my job. I knew how much money I'd be making and how much I could reasonably set aside for vacation. We had the flexibility to throw money at some of our problems, but it's rare that I see so many opportunities in a short period of time when I wish I had additional cash — at least 238 euros worth, to be exact, plus whatever it costs to upgrade to Skyteam Alliance Elite membership.
Laura Chanoux works in higher education and is open to moving to Tours, call her.
---
Support The Billfold
The Billfold continues to exist thanks to support from our readers. Help us continue to do our work by making a monthly pledge on Patreon or a one-time-only contribution through PayPal.