How To Do Wedding Registries Right
by Alizah Salario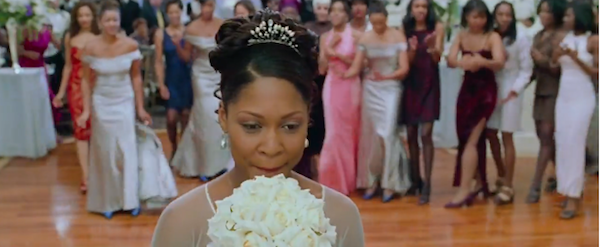 Since changing my Facebook relationship status from "single" to "engaged," sidebar advertisements for yoga pants and single men in my area have disappeared and been replaced with images of wedding dresses and promo codes for save-the-date magnets. For a long time, I've been wise to the ways of the Wedding Industrial Complex (WIC). I saw right through the Swarovski crystal-studded centerpieces, and firmly believed that if I were ever to wed, my awareness immunized me from the highly contagious Bridezilla virus. But now that I'm engaged, I realize just how easily it spreads.
From diamond engagement rings to multi-tiered cakes, the WIC has done a spectacular job of making the opulent Fantasy Wedding™ so desirable and seemingly attainable that anything less appears substandard (it isn't). The WIC is not just a cultural force but a gravitational pull that keep us orbiting around love, stability, and money. After all, at least until she takes Feminist Studies and reads her first Emma Goldman essay, so many little girls grow up believing that, without a princely partner and a lavish fairytale wedding, she'll fail to self-actualize.
Skepticism of the WIC is why I'm cautious about setting up a wedding registry. Traditional registries seem retrograde to me, and as a wedding guest, I've had my fair share of registry resentment when everything listed was out of my price range.
What's more, registries seem intricately linked to the economic shifts of the moment. It's telling that Marshall Fields created the first bridal registry in 1924 — note that it was called a bridal registry, clearly marketed to the wife/homemaker — during the Roaring Twenties, when prosperity likely created the right economic circumstances to transform luxurious wants like china, crystal, and silver into typical, everywoman needs.
It's even more telling that in 1993, during an economic boom, Target patented the first online registry system, and the definition of household "need" quickly evolved. We know how conspicuous consumption works: Modern couples may not need fancy china, but they certainly need a silver dollar pancake griddle and a molcajete made of volcanic stone.
Today, a whopping 87 percent of brides establish a registry and register at an average of three stores, according to a 2014 survey from The Knot. The average registry is valued at $5,160 and 47 percent of items cost $50 or less. Traditional registries are still comprised mostly of household items, perpetuating the idea that marriage and domesticity are intertwined.
I'm in my early thirties. I enjoy cooking. I don't need a registry in order to stock my home or to have a reason to get nice dishes. It feels unnecessary for my fiancé and me, since we are getting married slightly later than average and have cohabitated before marriage, to upgrade appliances we've purchased in the last few years. The bind is this: It feels weird asking for stuff but disingenuous not to admit that gifting is an important part of celebrating a marriage. I don't want the WIC to warp my decision-making, but an espresso maker would be nice. See? The line between want and need is already blurry.
So I turned to the experts: Emily Threlkeld, a writer and former wedding consultant at Bed, Bath and Beyond, and Lauren Kay, an editor at The Knot. They offered suggestions for setting up a registry that felt intentional and right for me.
It's not about you. Setting up a registry is often more about the givers than the recipients. Guests want to know what to get, and without guidelines, you can end up with gifts you hate from people you love, which you're then obligated to keep, says Threlkeld: "A wedding is a gift occasion. People feel obligated to give you a gift. But not everyone is good at gift-giving. In fact, a lot of people find it stressful."
Make it easy on your gift-givers. Have family and friends spread all over the country? Then opt for nationwide chains like Target or Bed Bath & Beyond. Is there a local place that is a traditional registry choice? For Threlkeld, who lived in North Carolina, that place was Belk. For me, a native Chicagoan, that place is Macy's, nee Marshall Fields — I still miss you.
Less stuff, more experiences. We're in a minimalist moment. Consider this article about Millennials not wanting family heirlooms like dishes or leather furniture, says Threlkeld. Many couples don't want more stuff, but instead want to "enrich their commitment to each other," says Kay. Places like REI now have wedding registries, where couples can add things that facilitate activities they enjoy doing together, like mountain biking and camping.
Almost a quarter of couples do a honeymoon registration, where couples can either have guests contribute to the overall cost of travel or purchase specific items. Even if the present is a hat and sunscreen, having tangible gifts related to the honeymoon is a way to "bridge the gap between what the guest wants to give, and giving cash," says Kay.
Take cash into consideration. When my very practical fiancé and I talked about registering, he suggested it made sense for people to give us cash to offset the cost of the wedding, since we're paying for it ourselves. I argued that for certain items, registering would save us money down the line and many people want to give tangible gifts (see #1).
Whether cash or a tangible gift is preferred has to do with geography and your cultural background. Kay, who is from the South, notes that it's far more acceptable to give money for weddings in the Northeast than in her hometown. Gifting is a social exchange; ancient wedding gifts were symbols of health, fertility and luck. Dough or a doughnut maker, wedding gifts are about bestowing security upon the new couple.
Picture your future. Do you enjoy hosting large dinner parties? Then you many want a table setting for 16 people. Are you transient and love the idea of moving around? Then you probably don't. A registry shouldn't be about stocking your home, says Threlkeld. What you don't want to do is "accumulate a bunch of stuff you don't need just because someone hands you a checklist made by a savvy marketer." Before registering, take time as a couple to consider your values and what you really want.
Ask for assistance. "If you don't have a great deal of knowledge or a lot of time to research product reviews, a bridal consultant can be a great help," says Threlkeld. "A good bridal consultant also makes sure you have options across different price points, which is why they encourage you to register for two or three times as many items as you have guests." A bridal consultant (or a savvy friend) can help to answer questions about the best vacuum cleaner — or the best sleeping bag for your upcoming camping trip.
If all this sounds stressful: Chill out. "There's really no wrong way to register," says Kay. "People are looking for ways to register for things that are a little more outside-the-box."
If it still sounds stressful: Then just don't do it. The end.
This story is part of our Wedding Season series.
The Roundup takes a glass half full approach to personal and behavioral finance. In her columns, Alizah examines the biases, assumptions and emotions we often unknowingly attach to money. And yes, she always rounds up.
---
Support The Billfold
The Billfold continues to exist thanks to support from our readers. Help us continue to do our work by making a monthly pledge on Patreon or a one-time-only contribution through PayPal.