House Hunters International, Billfold Edition: The Final Chapter
by Jessica Furseth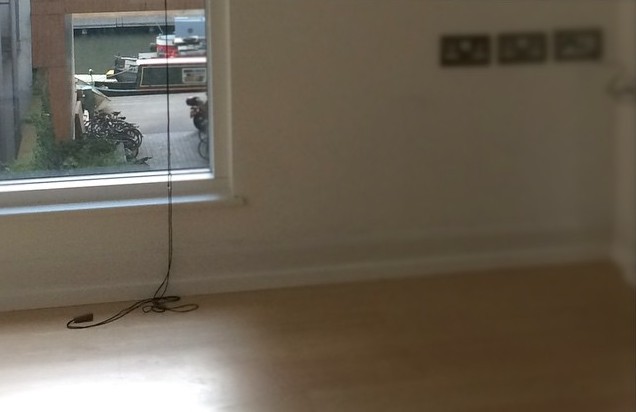 Final part in a series! Previous installments here.
I was home alone last night, for the first time in my very own flat. There's no furniture here yet. I don't care. There's no internet either. I don't care. It's turned chilly again outside and I can't work out how to turn on the heating, but I don't care. Last night I sat on the bare floor in my quiet flat and ate Vietnamese food with plastic cutlery, and it was one of the happiest moments in my life.
So we made it, in the end: we bought the tiny flat by the canal in East London. If you've forgot the details of this househunting saga I don't blame you, as it has indeed been a while. Last time I wrote was when we had put all our stuff into storage and gone to live with family while we waited for the purchase to complete. We expected to be in that limbo state for 6–8 weeks, at the longest. That was 14 weeks ago. Fourteen f***ing weeks.
Now, being in our new flat is every bit as good as I hoped, and then some. But I won't lie: it's been rough.I'm afraid I didn't cope well with the maddening bureaucracy and endless delays. Not well at all. The bank came up with one reason after another to postpone our mortgage approval, at one point refusing to move forward unless we could dig up the cover sheets from the faxes which had been sent from the tax authorities. Even our broker was exasperated in the end, which I found reassuring: knowing this process was unusually harsh, even on us "flaky" freelancers, felt like it validated my frustrations.
I won't go into it too much as it got pretty boring towards the end, except to note that I was consumed by the situation far longer than I like to admit. As melodramatic as it sounds, buying this house has been one of the most hateful experiences of my life. After the bank finally came through, things got stuck for a few weeks again over a delay of something called a "Building Regulations Approval Certificate," which frankly sounds made up. In the end we decided to waive it for the sake of our sanity.
I was going to say I wouldn't wish this process on anyone. It's actually the perfect revenge: though no one dies, the unique combination of stress and boredom will bring you to the edge of reason. And then you get to live in a house that you own, feeling guilty as hell over having complained so bitterly over a process you were very privileged to be allowed to undertake.
But while it was going on, oh, there was hatred in my heart. The saga ended with the seller insisting on needing three weeks to move out, which triggered a moment of blackout rage where I offered them cold hard cash to get the hell out of my flat. It worked.
We're living in our new flat now, at long last, and life is moving forwards again. I'm amazed at this, as I was starting to genuinely wonder if this day would ever come. But the most incredible thing is that I'm already starting to forget what it took to get here. "Maybe buying a house is like childbirth," my friend suggested; the process is brutal but afterwards you're just happy. Right now I'm feeling overwhelmed and stunned, walking around inside my empty flat, not quite knowing what to do with myself. This is really something.
I've never owned my own place before, and I'm not sure what that means for me yet. I never cared all that much about ownership, as that was my husband's thing and not mine — I just wanted to go back to East London. But now that I own this place, I have to admit it feels different — mostly because I know I won't be moving from here in a very very long time, possibly ever. That's partially because of the herculean effort it took to get here, and partially because this flat is, in my opinion, in the perfect London location.
The feeling that's dominated 90% of this house-hunt, which started last October, has been frustration, and it's overwhelmed everything else that's happened in my life during that time. I'm unbelievably relieved at being able to move on, to have the space to think about other things again. I can't quite say this process was worth it, not yet at least. Maybe someday. For now I know that we made it through. We're in our new flat, and today I feel lucky.
Jessica Furseth is a freelance journalist living in London. She loves the Internet but has too many tabs open. Read her stuff on Tumblr or come say hello on Twitter.
---
Support The Billfold
The Billfold continues to exist thanks to support from our readers. Help us continue to do our work by making a monthly pledge on Patreon or a one-time-only contribution through PayPal.