Job Of The Day: Professional Marathon Runner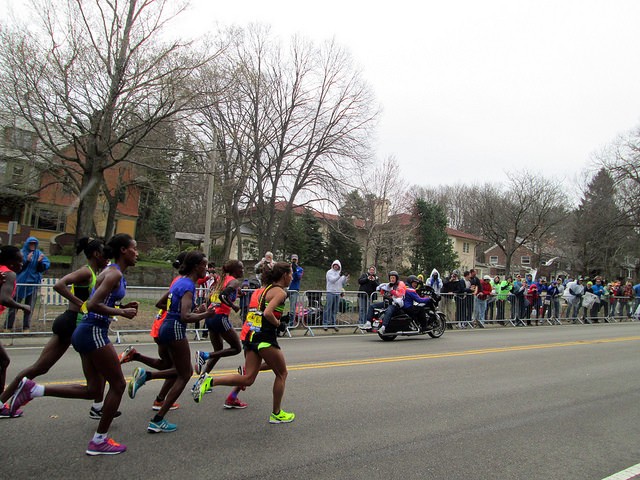 Last week, 27,165 people ran the Boston Marathon and 26,610 finished it. The majority of Boston Marathon runners were probably not in the race in the hopes of taking the $150,000 price for first place, but a handful of elite runners compete in these races as a way of earning a living. The New Yorker's "Running for Money" shares some of their stories:
On Monday, Caroline Rotich, a thirty-year-old Kenyan, finished first at Boston, with a time of 2:24:55. Rotich has been running professionally for twelve years. The most she'd ever won at a race before this week was twenty-five thousand dollars, for first place at the smaller and less competitive Prague Marathon. The six-figure payday from Boston is more than she made in the past two years combined.
Rotich, as the New Yorker explains, lives in New Mexico on a fraction of her winnings while training for her next race:
About those winnings: thirty per cent of her Boston prize was immediately deducted for taxes. Another fifteen per cent went to her agent, Isaya Okwiya, a Maryland doctor and part-time athlete representative from Kenya. Okwiya shares a small portion of his allotment with Ryan Bolton, Rotich's coach, who accepts a reduced fee from African runners. That leaves eighty-two thousand five hundred dollars. Rotich says she'll send at least ten thousand back to Kenya to pay the tuition of five relatives. Another fifteen to twenty thousand will be set aside for her rent and expenses in Santa Fe. She wants to invest in some Kenyan ventures, such as an apartment complex that a brother will manage. So now there's perhaps thirty or forty thousand dollars of the Boston purse remaining. Not bad.
The New Yorker piece profiles three elite runners, including Deena Kastor, who combined running with waitressing until a shoe sponsorship deal allowed her to quit the day job. These athletes live modest lives, running paycheck to paycheck like the rest of us, except their paychecks are both larger and farther apart — and they have to run 26 miles and beat 26,000 other people to get them. (You do not necessarily have to be first across the finish line to get paid; the Boston Marathon, for example, offers smaller cash prizes for runners who place but do not win.)
As a freelancer and musician, I know a bit about creative risk and commitment to developing a craft in the hope that a living will eventually follow — but this feels so very risky to me. Maybe it's because we have a model, in our culture, for the actor who's waitressing part time but no real model for the athlete who's waitressing. It reminded me of the 2012 NYT profile of Olympic weightlifter Holley Mangold:
Last fall, [Mangold's agent Drew Dillon] and his two roommates cleaned out their laundry room. Now Mangold sleeps beneath an old drying rack hung with weight-lifting medals and her enormous brassieres in a twin bed that her mother bought her for Christmas.
But if you want to become a professional marathon runner, the job is yours for the training. It makes me wonder when people decide to go pro; at what point, for example, does someone say "okay, for the near future I'm going to expect the majority of my income to come from race prizes, with the hope of a sponsorship down the line?" I wish the New Yorker piece had looked more closely at what drove their subjects to become professional marathoners, because that's the question that I still want answered.
We'll end with a bit of financial advice from the third New Yorker-profiled marathoner, Mbarak Hussein:
"Create savings to be comfortable for the next six months or so … and you don't have to stress going from race to race thinking about money."
Sounds like good advice for any career.
Photo credit: Rob Larsen
---
Support The Billfold
The Billfold continues to exist thanks to support from our readers. Help us continue to do our work by making a monthly pledge on Patreon or a one-time-only contribution through PayPal.