Vacations I've Taken And What They've Cost Me
by Megan Reynolds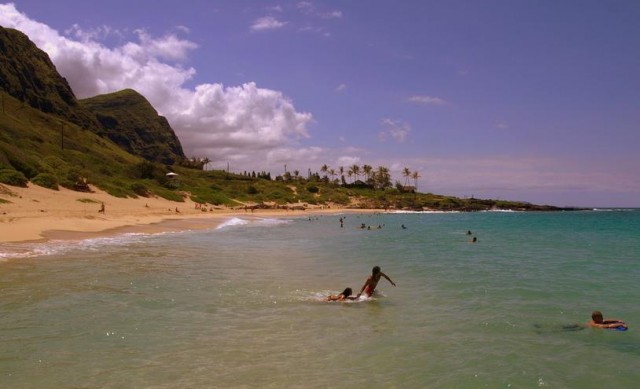 I. Hawaii, 2009
The week before we left for Hawaii, someone stole my debit card and spent what little I had in my checking account at a Target somewhere in the middle of the country. I spent hours on the phone to the bank, trying to figure out if I would have money before getting on a plane and zipping off to an island where I presumed I'd need to spend money. Dan, my boyfriend at the time was understanding, prepared to shoulder the burden for as long as needed until my finances were in order, but at this point in my life, they never really were. Because I don't know how to drive, I told him that I would pay for the rental car once we got there, but I discovered at the rental counter that because I wasn't the driver, the car couldn't go on my card. He sighed imperceptibly as he paid for it, and listened to my empty promises of repayment when we made it back to California.
Hawaii is beautiful, a place that doesn't even seem real, with warm nights, lush beaches and extraordinarily expensive groceries. The first two nights, we stayed at a campground on the beach, sleeping inside a wooden A-frame shelter ten feet away from where the ocean lapped gently at the sand. We had a little grill, and tried to cook both nights, but the wind made it impossible to get a fire going, so we ended up eating after dark, under a full moon. One morning, I sat and watched as Dan took surfing lessons from a beautiful man whose name I've forgotten. He told us he was a part-time model in Williamsburg, and I sat in a lounge chair and read while Dan surfed. We fought only once that trip, while sitting in the airport waiting to catch our flight from Oahu to the big island.
II. Wellfleet, 2001
The summer after our freshman year of college, I made an attempt at living in Wellfleet with my friends Sonia and Jeff. We had free reign of Sonia's parent's cottage for the month of June, and very little money. Slowly, we found work in Wellfleet, waitressing at various seafood shacks around town. Sonia and I worked at Mac's, a restaurant on the harbor run by a deeply moody and mercurial man who seemed to dislike his lot in life. As is inevitable in these situations, where money is tight and you're living with your friends, discussions about things like whose turn it is to buy toilet paper turn into heavier, headier conversations about who's pulling the most weight. It rained a lot that June. We spent long hours in the cottage, flopped onto various couches, and bickering. I left after a month, to go live in Alaska for the rest of the summer with a boyfriend, and really, that was for the better.
III. New Years, Vermont 2003–2011
As is a tradition within my group of friends, every New Years, we would pile into a rental car and drive for five hours to Vermont, where we'd spend the next 72 hours in a bacchanalian frenzy of eating, drinking and carousing to welcome in the New Year. We stayed at Wendy's parents' farmhouse, a rambling white house set off the road, in the midst of dead-silent forest. Logistics for food and drink were sprawling conversations, starting with menu planning and ending with three people silently leaving and heading to the liquor store, because they couldn't endure any more discussion about what to eat for lunch on the third day.
We were hard on that house, in the way that the very young and the very stupid are. One year, we ruined a $1,000 antique rag rug. An incident with late night Jello shots left bright red drips and drabs on a hand knit wool blanket Wendy's mother had made, like the scene of some horrific crime we discovered the next morning. After one lazy afternoon of drinking and general idiocy, we left the wizard staff of duct taped empty beer cans in the hall closet by the vacuum cleaner, where Wendy's mom discovered it a few weeks later. And, during a rare summertime visit, our friend Peter took the antique carriage in the barn out for a spin through the yard during a thunderstorm, breaking it irreparably. It is a miracle that we were allowed in that house to begin with.
Wendy always told us to bring cash, but nobody ever did. Every New Years day, as we were picking cigarette butts off the front porch, and collecting glasses from various sticky surfaces, Wendy would sit at the table and work out the arithmetic of who owed what. Rifling thru a pile of receipts, tapping out figures on an iPhone, she had honed a formula over the years that worked: add up the amount of money spent, divide that by the number of people present, and then some combination of addition and subtraction that stymies me still, to this day.
IV. Vermont, 2013
Wendy's parents sold the farmhouse, and bought another, newer house a few towns over. The first time we were there, we knew that things would be different. We were older, slightly more financially stable, and the house we were staying in was really, really nice. There are two televisions in separate living rooms within plain sight of each other, a kitchen that looks like something out of the Food Network, and enough rooms for everyone to have their own bed. Last summer, I spent a long weekend there with the people we always see, and then some others I don't see quite as often — a friend visiting from Hawaii, my old roommate from San Francisco with her husband and her child. Something about the presence of the child underfoot changed the tenor of our weekend. We were a little more together this time around, slightly more mature. We had conversations about childbirth and medical school with the self-assured confidence of adults. The accounting at the end of the trip, usually an arduous process, was resolved while I helped my friend Greg make the bed in his room. It all worked out in the end.
Megan Reynolds lives in New York.
---
Support The Billfold
The Billfold continues to exist thanks to support from our readers. Help us continue to do our work by making a monthly pledge on Patreon or a one-time-only contribution through PayPal.