WARNING: Incorrect Business Cards Circulating! Title Should Read "Editorial Sheriff"
by Matt Powers
I received my new business cards yesterday and had already handed out about two thousand when I realized they say "editorial assistant" instead of my correct title, "editorial sheriff" (correct card shown below).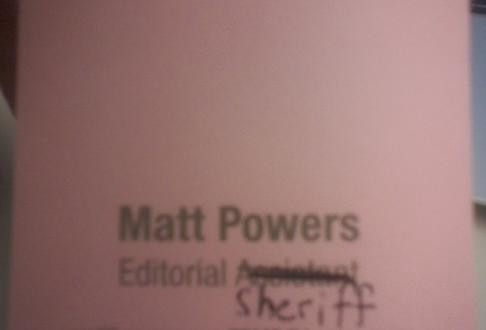 Please DESTROY these incorrect business cards. If we let these falsities circulate, it will erode the principles of goodwill, trust, and friendship: the very three pillars that the business community operates on.
Please refer to the image above for the correct title, and please print this on salmon-colored card stock if you cannot wait to receive a replacement. For how to get a replacement, please see below.
For a business card replacement, please send a Self-Addressed Stamped Envelope to my home address along with a written affidavit that we were hanging out on the night of April 14th, 2005 at Julio's Dance Hall in Carson City, Nevada. That would be pretty huge for me, so thank you.
And see you out there in the business world!
Matt Powers lives in New York.