Places I've Lived: Oberlin, Crafty Mice, and a Revolving Door of Roommates
by Chanel Dubofsky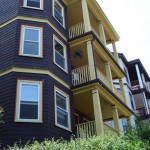 Saint Rose Street, Jamaica Plain, Mass., 2001–2002, $350/month
I moved into this house right after college. There were four of us living in the downstairs apartment, and four (and two cats) on the top floor, all doing the same fellowship, and a woman (who hated us) and her young daughter living on the middle floor. I slept on an air mattress for that whole year, because I was too lazy to get a real bed (not recommended). I delighted in living in the city, riding the train, getting into political arguments, horrifying my loved ones while I subsisted on $18,000 a year, and walked home in the dark through a neighborhood that was supposed to be "rough" (read: not full of white people).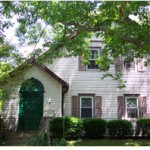 South Cedar Street, Oberlin, Ohio, 2002–2006, $350.00/month
Oberlin is full of these big, beautiful houses that have wooden floors, lots of secret spots and that smell very specific (maple syrup? Body odor? Both?). I didn't live in one of these houses. I rented the first apartment I saw, a studio on the second floor of a two-story house. There was a long walk-in closet at the end of which was a door that led to the shared attic. It was scary up there, and I tried not to think about it. I went to a hundred yard sales and found an orange glass bowl and a green jug with a daisy painted on it, both of which I still have. I wrestled two ownerless shelves in from the street and up the stairs and piled books on them. I woke up at 7 a.m. on Saturdays to watch hours of 90210, alone and judgment free. The apartment startled people — the size of it, mainly — because I probably could have lived in a bigger place, but this was the one I wanted (a summary of the story of my life). I'd pile my friends into it, and we'd sit on the floor and eat from bowls in our laps because I didn't have a table. Someone once described it as "kind of shitty," but I loved that apartment. I still think about it. It's probably my favorite place I've ever lived.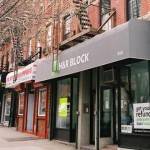 107th street and Columbus Avenue, New York, N.Y., 2006–2007, $925.00/month
I moved to New York from Ohio with a friend. We used a broker to find this place, which I will never, ever, do again if I can help it. My room had exposed brick, there were dinner parties, and I once stayed up until 4 a.m. knitting. We had a series of mice, followed by a series of traps set by my housemate's boyfriend, first with cheese and then with peanut butter. The mice were crafty, they'd steal the food and take it back into the walls to share with their mouse friends. It probably did not help that we named them.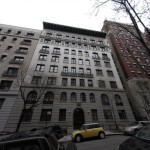 99th street and West End Avenue, New York, N.Y., 2007–2008, $625.00/month
When my housemate moved to Brooklyn, I moved in with a friend in a building with an elevator near Riverside Park. We found it on Craig's List; the woman was looking to fill it quickly before she went abroad for the summer. The apartment had two real bedrooms and she'd created a third by building a fake wall that cut the living room in half. We bought two Ikea bookshelves and split the biggest bedroom into two. I didn't have a closet on my side, but I had a window. Everyone we knew thought we were insane, but the rent was insanely cheap and my roommate was never home. I was proud of our stubbornness and ingenuity, and for proving to myself that I could apparently live anywhere.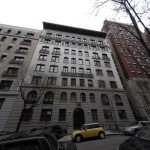 99th street and West End Avenue, New York, N.Y., 2008–2011, $1,060/month
I stayed in the apartment after my roommate left for grad school in California, and moved my stuff into the fake bedroom off the kitchen (which was six hundred dollars more in rent) while we looked for another housemate to fill the biggest room. For a while, it was like a revolving door; one housemate lived there until she got mugged in the apartment lobby while holding her (creepily small) dog., another barricaded herself in her room for months before she left. Finally, we found someone we loved who lived there until we all moved out two years later. There were so many great things about the apartment (laundry in the basement), the neighborhood (close to everything) and my roommates, but the toilet overflowed, the ceiling in my room leaked, the management company was impossible to reach, and I couldn't afford the rent. (I also couldn't afford to move, especially after I got laid off.) Once, I found a dead mouse in a lamp. I had the most profound depression spiral in recent memory. I left relieved, nervous, sad and tired.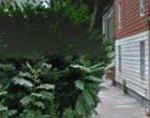 Midwood Street, Brooklyn, N.Y., 2010-Current, $450/month
After I moved out of the Upper West Side, I threw my stuff in storage and fled to Massachusetts for three months. While I was gone, a friend of mine moved out of her room in the house I live in now, thus allowing me to continue my embargo on using brokers. The house is in Prospect/Lefferts Gardens, which is not a neighborhood anyone seems to have heard of, and has five bedrooms, five bathrooms (including those in the attic and the basement, which are basically apartments in themselves) six stove burners, two cats, a washing machine, a garden, and a giant living room and kitchen. My room is easily the smallest room in the house, which people love to point out, but we're a gorgeous, eccentric motley crue living with intention. I can write and afford to do so without feeling like I'm hovering on the edge of financial disaster every moment (so far). I feel self conscious about it, and sometimes I'll get awkwardly sweaty thinking about if I'll be living there when I'm 40. It seems like all of the places I've lived, to a certain degree, have been about a combination of making the space my own and trying not to care about what people think, while I work on carving out a life that I believe in and actually only needs to feel good to me.
Chanel Dubofsky lives in Brooklyn.