The Debt Resistors' Operations Manual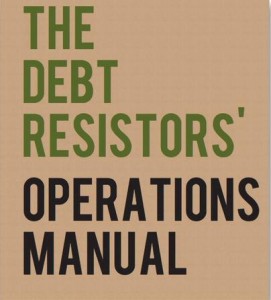 The Debt Resistors' Operations Manual is a text written by a group of anonymous members of STRIKE DEBT. They gave out 5,000 copies at OWS events over the weekend, and have put the guide online.
The manual is not a guide to defaulting on your loans, though there is some information pertaining to that (with warnings and disclaimers that it's not a pretty business). Instead it's a guide to understanding the how debt works — credit cards, payday loans, student loans, medical debts — how you use each system, and how it uses you.
It's long — 132 pages — but it's an easy read for a text about financial institutions. They are calling it a "living document," that will expand and be updated as time goes on. It's like a fun little educational textbook with a strong dose of truth-talk. It's also kind of like a Wikipedia entry in that there are no actual names, so you know: salt grains.
"'This is why we're not talking about a debtors' movement, but a debt resistance movement,' says 28-year-old Chris Casuccio, otherwise known as 'Winter,' a Strike Debt member whose student loan debt has swelled to more than $100,000 since he graduated. "'The simple fact is, not everyone owes money directly to the banks and governments. Debt resistance is more inclusive, more accurate, and moves from the personal to the structural. When we say 'debt resistance,' we think of people forced to go into debt to survive, but also everyone else who is affected by their towns, cities and countries owing money to Wall Street — not to mention both those excluded from credit altogether and those thrown to payday lenders and other predatory scams.'"
"The manual is just the first of a number of projects that Strike Debt and its allies have lined up to help build a debt resistance movement and invoke 'the debtor' as a political subject. Supporters of the more radical, anti-Capitalist tendencies in Occupy might worry that projects like the Debt Resistor's Manual promote navigating, as opposed to attacking, the current system. The anonymous contributor stressed otherwise, telling Salon that projects like the manual are part of a broader effort to 'create the conditions for widespread debt refusal.'"
---
Support The Billfold
The Billfold continues to exist thanks to support from our readers. Help us continue to do our work by making a monthly pledge on Patreon or a one-time-only contribution through PayPal.